Radha Soami Satsang Beas
Activities during the Covid-19 Second Wave – May 2021
On May 7th, 2021, a record 414,188 new daily infections were reported. The number had almost tripled within the time frame of a month. A second wave of the coronavirus has resulted in acute shortages across the healthcare infrastructure in the country. While a number of states imposed lockdowns to counter the spread, experts have warned of a potential third wave hitting the country before the end of the year. No single healthcare entity or government body has sufficient resources to face on its own the ever-spreading virus. With a population of 1.4 billion people, resources and logistics are severely stretched. This has prompted a number of charitable and religious organizations to step forward, and in partnership with the authorities, attempt to augment the existing infrastructure.
At Radha Soami Satsang Beas (RSSB) sewa (service) has always been one of the key tenets of its teachings. RSSB has offered the use of its centers across the country for the setting up of medical care, isolation centers, vaccination centers, logistical support, and food delivery. Building on its efforts during the first wave, the organization was able to quickly put into place procedures and policies that were developed in 2020. At these centers RSSB offers a clean environment that also can be enhanced to be medically sterile, apart from offering basic infrastructure of bathrooms, toilets, and open spaces. The sevadars (volunteers) at these centers provide round the clock administrative support, food, tea, and allied services to both medical personnel and patients free of cost. Currently there are over fifty Covid care centers in various stages of being operational and with more in the development phases.
The following article provides a glimpse into the services being provided by RSSB at its centers across the country, and is only a small indication of the devotion and dedication of the sevadars who, on a daily basis, have put their own wellbeing at risk to help shoulder the pressures being faced by each section of society.
RSSB Bhati, New Delhi
The Sardar Patel COVID Care Centre
During the first wave in the Spring of 2020, the Government of Delhi had established the Sardar Patel Covid Care Centre at the RSSB Bhati premises in South Delhi. The Centre had 10,000 beds and facilities to handle up to 10,000 patients on a daily basis. The main facility is 1,700 feet long and 700 feet wide, roughly the size of 20 football fields, and has 200 enclosures with 50 beds in each and is fully air-conditioned. It was closed in February of this year as the caseload had dropped. The facility has now been reopened to give medical support for the recent challenge of this unprecedented surge in coronavirus cases.
The Ministry of Home Affairs has designated the Indo-Tibetan Border Police (ITBP) as the nodal agency for operations. The facility has 500 oxygenated beds for Covid-19 patients, with a plan to increase this effort in the shortest possible time. There is walk-in admission at the Centre for patients who are Covid positive and have oxygen levels above 85. Although at the moment there is an acute shortage of oxygen in the country, it is planned to supply 700 MT of oxygen each day for all of New Delhi, which will allow us to create 2,000 beds at the Bhati Centre with oxygen. Further, 192 ICU beds are being arranged at the facility, of which 150 beds would be equipped with ventilators.
Patients are admitted to the Centre after a physical examination, and a kit will be provided to them on admission. All medical treatment, medicines, food, and other amenities are being provided free of cost. Services of a stress counselor are also being provided at the Centre. Approximately 300 RSSB sewadars are providing round the clock support in preparing and providing food and undertaking other support services free of cost for all the patients and healthcare workers.
See the link below for an aerial view of the RSSB Centre at Bhati, New Delhi.
https://www.youtube.com/watch?v=QV7iUy52zdo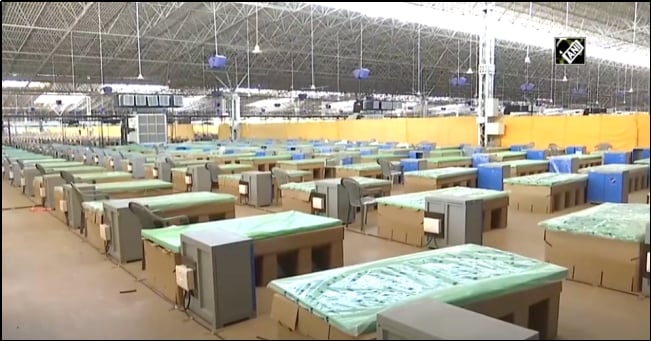 Disposable beds made of reinforced cardboard are used to reduce the risk of contamination after use by active Covid patients.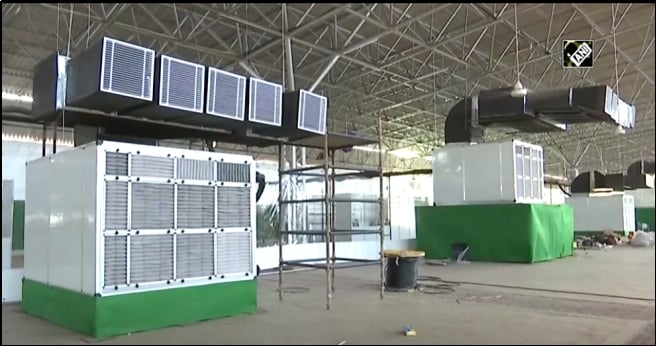 Part of the air conditioning/cooling system.
Vaccination Centres
RSSB Pusa Road Vaccination Centre, New Delhi
Covid-19 vaccination drives have begun across the country. In New Delhi, BLK-Max Super Speciality Hospital launched one of India's largest vaccination centres at the Radha Soami Satsang Beas, Pusa Road Centre. Chairman and Managing Director of Max Healthcare, Mr. Abhay Soi said, "This is one of the largest vaccination centres in India. Our target is to vaccinate 10,000 people in a day."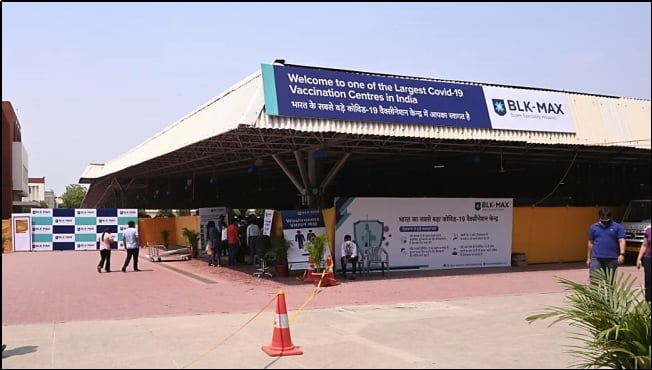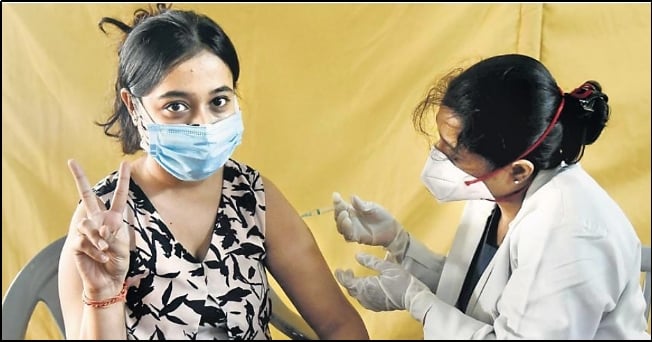 Getting her first vaccination at the Radha Soami Satsang Beas Vaccination Centre at Pusa Road, New Delhi.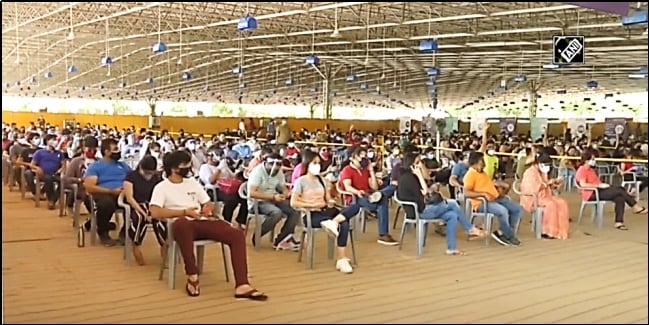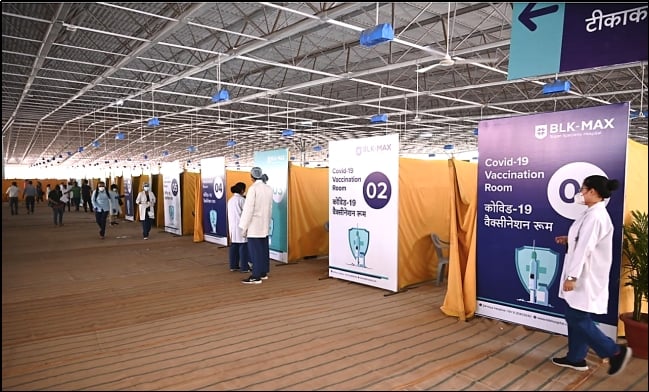 RSSB Vaccination Centres Planned
In addition to the RSSB Pusa Road centre, RSSB sewadars are actively assisting the local authorities in undertaking vaccination drives at over 400 RSSB Centres in many states throughout India, including Uttar Pradesh, Himachal Pradesh, Haryana, and Punjab. To date over 224,000 vaccinations have been given.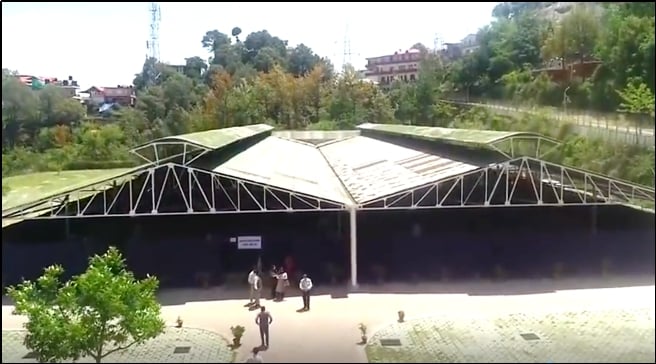 RSSB Solan Vaccination Centre, Himachal Pradesh.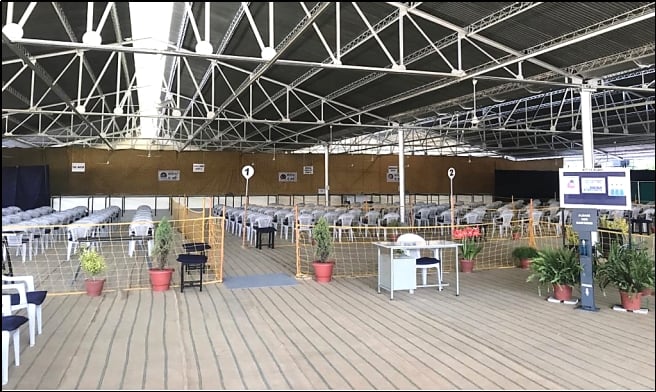 RSSB Solan Vaccination Centre, Himachal Pradesh.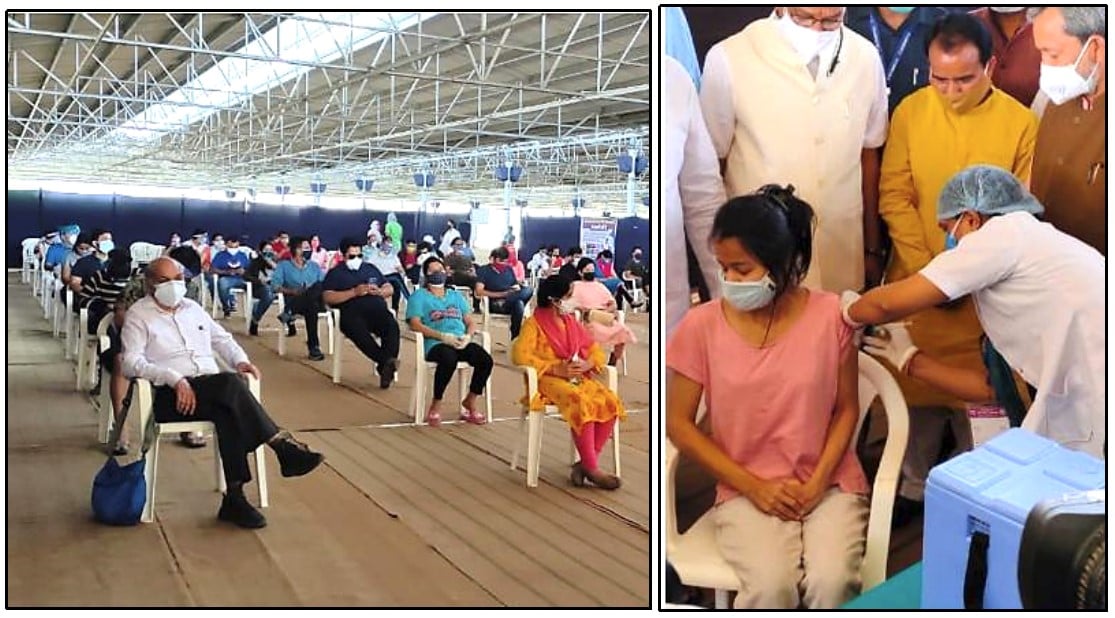 RSSB Dehradun Vaccination Centre, Uttarakhand.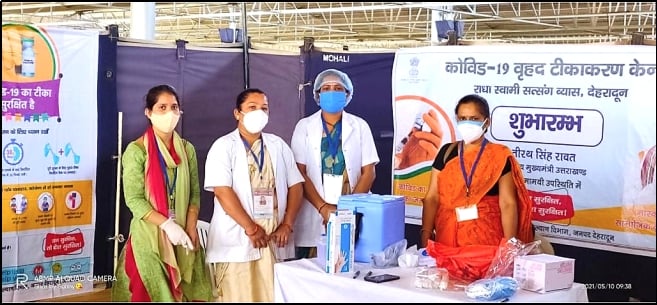 RSSB Dehradun Vaccination Centre, Uttarakhand.
RSSB Covid Care Centres
RSSB Jaipur Covid Care Centre, Bilwa, Rajasthan
Amid the surge in COVID-19 cases, the Jaipur Development Authority has established Rajasthan's largest COVID care centre at Radha Soami Satsang Beas, Jaipur Centre at Bilwa, located 24 km from Jaipur on the Tonk Road. The facility has 768 beds. The number of beds can be increased to 8,000 as needed. Owing to a shortage of oxygen supply, the administration will provide only 50 beds with oxygen facilities, but will increase the number once a supply of more oxygen cylinders is received.
Officials said this large Centre is special because it already has power supply, fans, hundreds of toilets, closed circuit television cameras, and a very large kitchen where fresh food can be prepared for the patients and staff.
The Medical and Health Department has appointed teams of doctors, nurses, and paramedical staffers, which will be available round the clock at the centre. The Jaipur Greater Municipal Corporation and the police will help the JDA manage the centre. The RSSB management will provide drinking water, breakfast, lunch, dinner, and tea to patients and attendants at the centre. Moreover, RSSB has also committed to providing ayurvedic decoctions to patients to boost their immunity.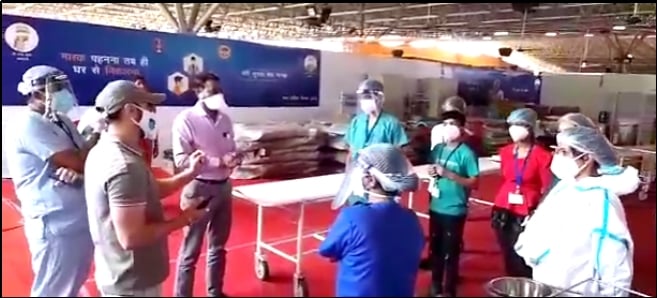 Jaipur Covid Care Centre, Bilwa, Rajasthan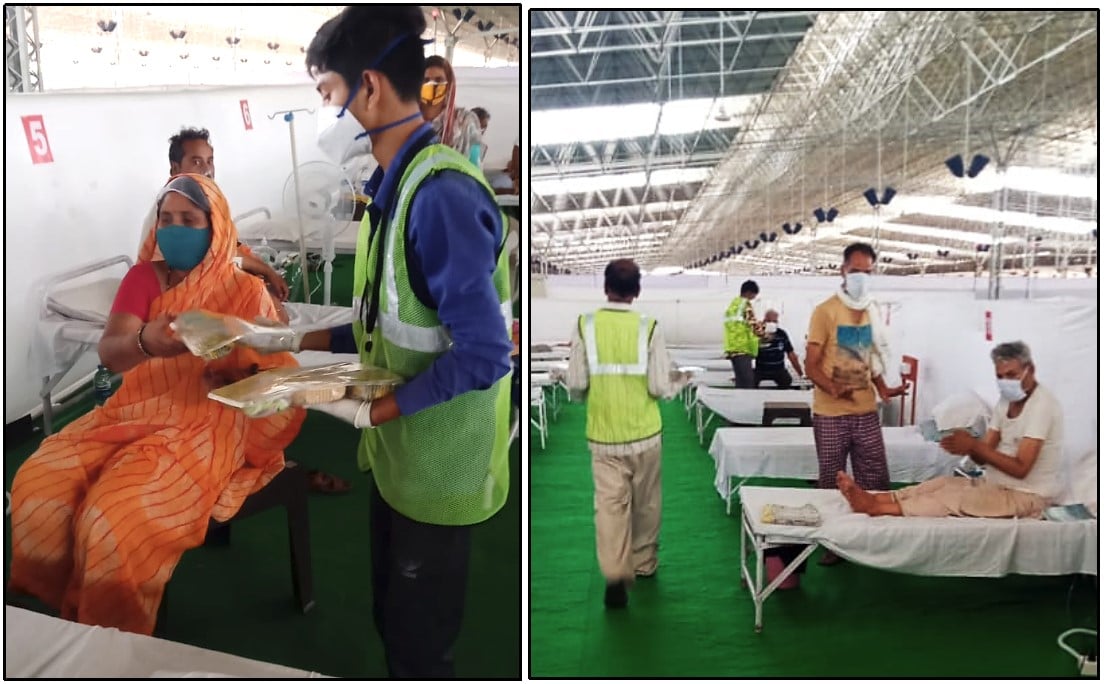 RSSB Indore — Ma Ahilya Covid Care Centre
The Ma Ahilya Covid Care Centre has been established at the Radha Soami Satsang Beas Centre Indore campus on Khandwa Road, situated on over 45 acres of land. The facility has 1,200 beds, with 125 beds having oxygen concentrators for Covid patients. The medical arrangements are managed by the State Government of Madhya Pradesh with joint support from Apollo Hospital, Bombay Hospital, Choithram Hospital and Medanta Hospital. Patients who are advised home isolation but don't have space or facilities at home will also be accommodated here. Patients will be allotted cardboard beds that can be easily disposed of after the patient is discharged. This will prevent contact and diminish the chances of spreading the infection. The long-term master plan includes expanding the number of beds to 6,000 if required.
RSSB is supporting the effort by providing breakfast, lunch and dinner at no cost for all the patients, medical staff, and administrative staff of the government. The Centre has a large kitchen equipped with facilities to prepare food for thousands of people. On average, 150 sewadars are involved in the daily preparation of 2,500 food packets which are served with tea.
This large Covid facility is the second largest in India after the RSSB Bhati facility in Delhi. The Indore Covid Care Centre was established for the benefit of patients who do not have respiratory issues, but are in need of isolation under medical supervision. At the same time, beds in a High Dependency Unit are also available at the facility to stabilize patients' oxygen levels, in case of emergencies. If there are further complications, patients will be referred to the nearest dedicated Covid hospital.
Plans have been made to set up an in-house laboratory to conduct RT-PCR tests. Two in-house oxygen plants are also available, with equipment purchased via crowd-funding.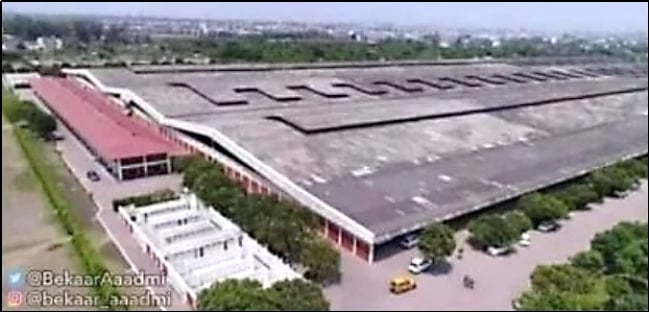 RSSB Indore Ma Ahilya Covid Care Centre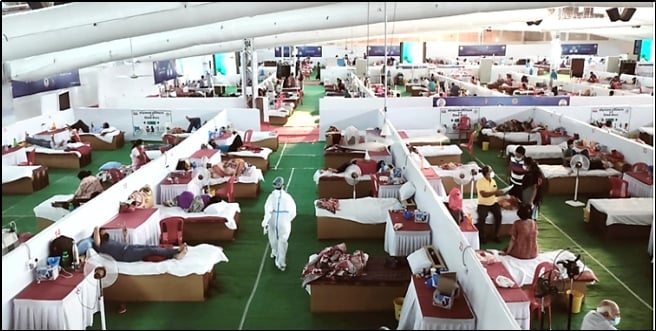 RSSB Baddi Covid Care Centre
A 190-bed extended Covid Care Centre has been created at the RSSB Baddi Centre to deal with the increasing cases of Covid-19 in the area. The large shed at the Radha Soami Satsang Beas Centre has been made available to house beds and other facilities for patients. The Centre borders an industrial belt, and the number of cases has been increasing, necessitating the urgent creation of a facility with beds sufficient to meet the area's medical needs. A large number of industrial workers enter the area each day from the surrounding states of Punjab, Haryana, and Chandigarh, many of whom are already infected with the coronavirus. Trucks routinely come from states even further away like Maharashtra, Delhi and Gujarat. Such daily movement of workers coming from infected areas has made this industrial belt especially vulnerable to Covid.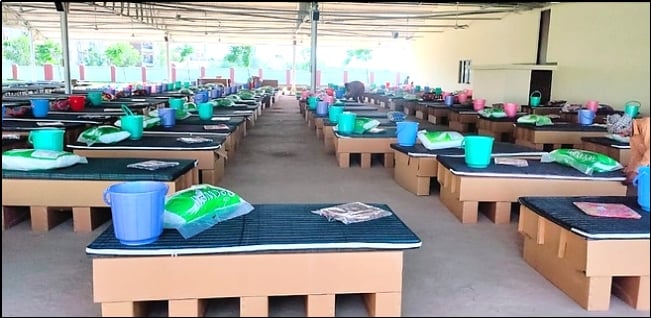 RSSB Ludhiana Covid Care Centre
Radha Soami Satsang Beas Ludhiana has converted their Satsang Centres on Chandigarh Road and Hambran Road into Covid Care Centres. Both Centres are now operational and have 110 beds each. Doctors and oxygen cylinders will be provided by the district administration. The electricity and all necessary facilities, including beds, quilts, soap, portable water, coolers, and other items will be provided to the patients and will be borne by RSSB. Food for patients and medical staff will also be prepared on the premises free of cost by RSSB sevadars.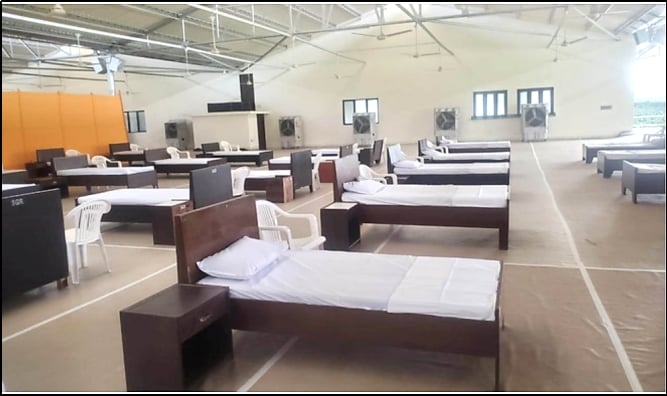 RSSB Covid Care Centre, Chandigarh Road, Ludhiana
RSSB Kathmandu, Nepal
Covid Isolation and Oxygen Therapy Centre
Deputy Prime Minister Ishwar Pokhrel has said that treatment of Coronavirus-infected people would be made at isolation centres in the large buildings available in the Kathmandu Valley. After inspecting the Radha Soami Satsang Beas Covid Isolation and Oxygen Therapy Centre, the Deputy Prime Minister telephoned the Chief Secretary, Dr Shankar Das Bairagi and Mayor of Kathmandu Metropolitan City, Bidhya Sundar Shakya, and directed them to make proper arrangement for running of isolation centres.
The RSSB Covid Isolation and Oxygen Therapy Centre is being brought into operation at Basundhara, in the capital city for the treatment of Covid-19 patients. On direction from the DPM, the Nepali Army has begun working to bring the centre into operation.
RSSB has provided its main building for the operation of an 88-bed isolation centre with oxygen therapy. Preparations have been made to extend the hospital up to 200 beds if required.
The KMC will ensure resources and infrastructures required for the isolation centre while the Nepali Army will take the responsibility of treatment, security, and management.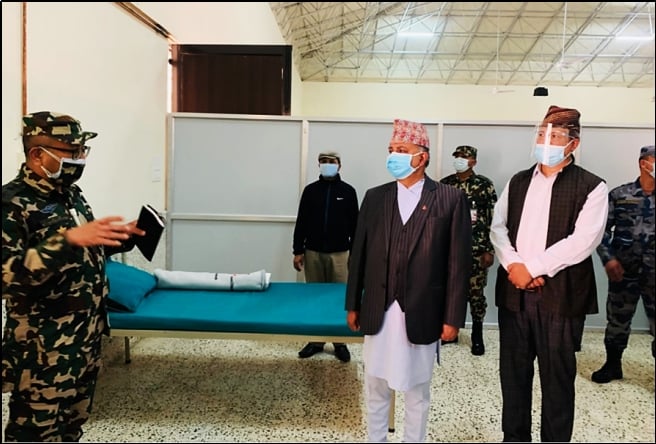 Deputy Prime Minister Ishwar Pokhrel visiting the Radha Soami Satsang Beas Kathmandu Covid Isolation and Oxygen Therapy Centre.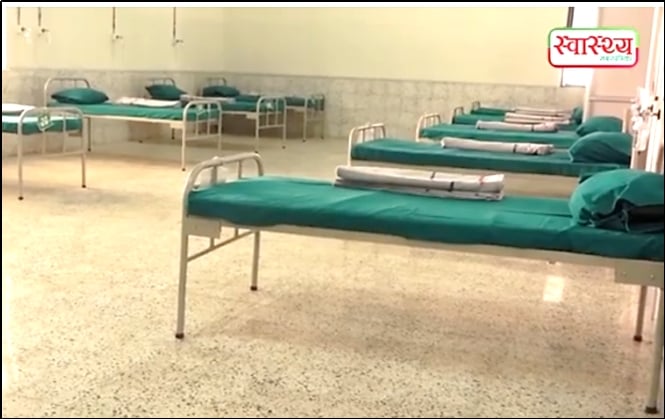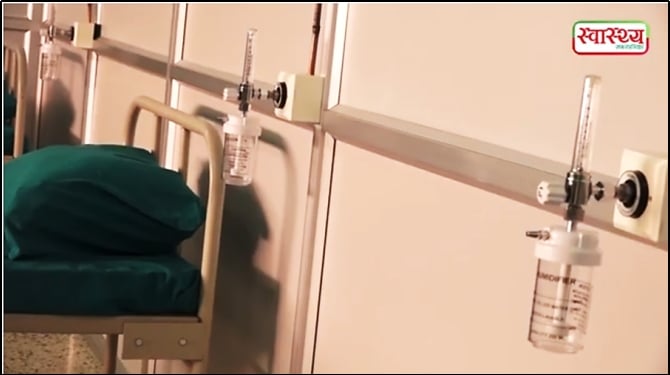 RSSB Continued Covid Response
RSSB continues to increase its response to the growing pandemic with additional Covid Care Centres throughout India. While the immediate plan is for about 40 additional centres, this number will continue to grow to meet the challenge. Some additional centres are pictured below. You can also refer to the RSSB Official website for more information at the link: https://rssb.org/covidpdf.html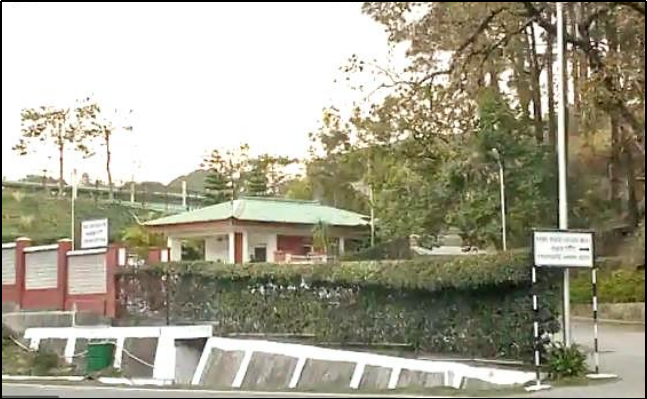 Paror Covid Care Centre — Chief Minister Jai Ram Thakur visited the Kangra district to inspect the 250-bed facility being established on the premises of the Radha Soami Satsang Centre at Paror. Arrangements are being made to provide additional 250 beds within the next 10 days. The capacity at Paror will be gradually increased to about 1,000 beds.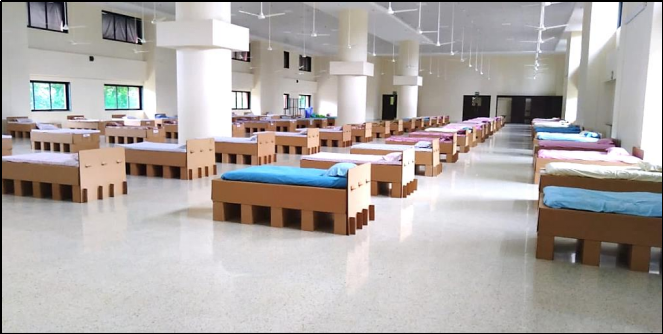 RSSB Bandra Centre — A 370-bed isolation centre has been set up by the local administration, with 20 beds supported by oxygen concentrators.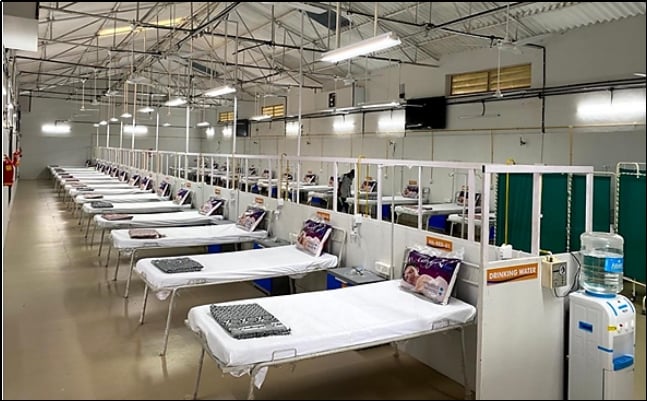 RSSB Navi Mumbai Centre — 408 beds isolation Centre has been set up by the local administration. The Isolation Centre also has 125 oxygen supported beds.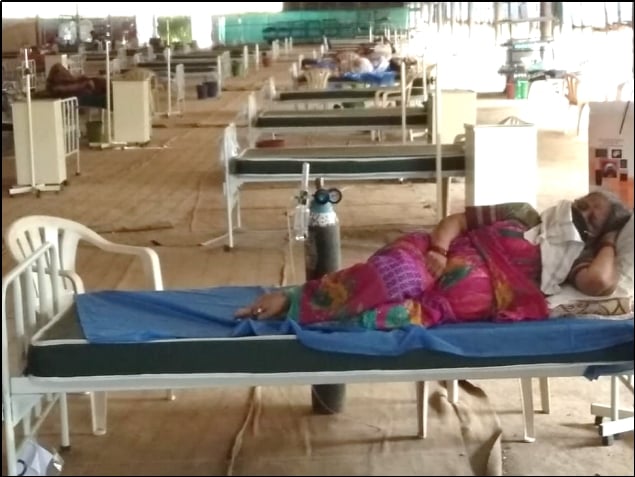 RSSB Ulhasnagar-I Centre — 300 beds isolation Centre has been set up by the local administration. The Isolation Centre also has 20 oxygen supported beds.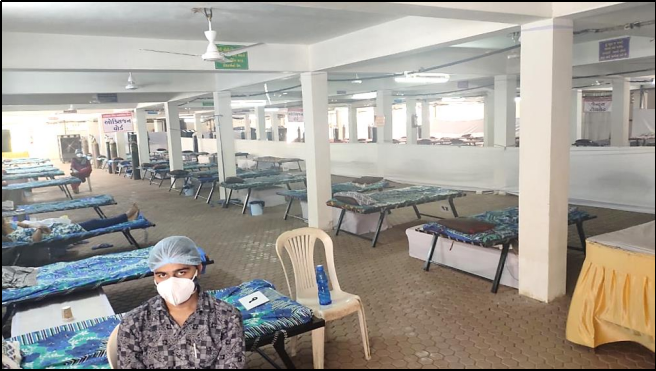 RSSB Surat Centre — The local Administration is in process of setting up a 100 bed Isolation Centre at RSSB Surat with medical supplies to be provided by the local administration. Of the 100 beds, 50 are supplied with oxygen. The entire facility is also air cooled.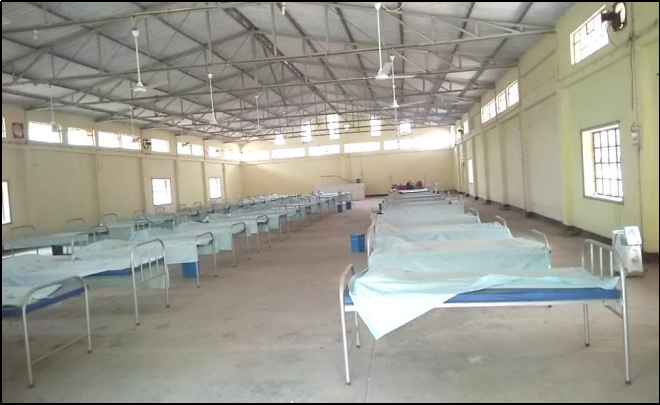 RSSB Patna Centre — 50 beds isolation centre has been established by local administration.
Providing Food During Lock-down Conditions
On request from local government administrations, RSSB is providing food to the authorities to help feed those in need during the lock down conditions at centres in Varanasi, Rudrapur, Chennai, and Raipur. This is in addition to the food being provided to patients and health workers at Delhi, Jaipur, and Indore. Every day approximately 15,000 food packets are being made available.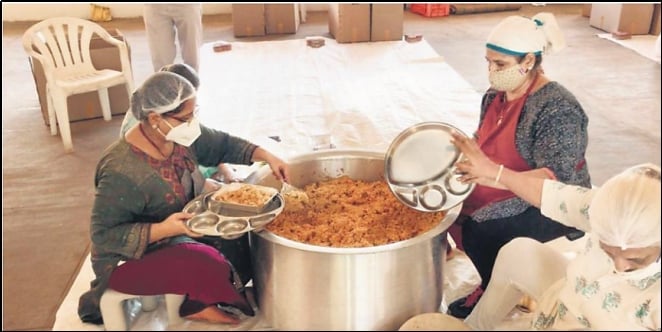 Sevadars from Radha Soami Satsang Beas Chennai prepare simple, healthy food like sambar and rice, different varieties of rice with pickle, or tomato rice. Around 18 sevadars prepare the food and pack it in disposable containers for delivery, free of cost. All the kitchen sevadars are equipped with hairnets, masks, and gloves, and have taken the RT-PCR test.
---