Pathseekers School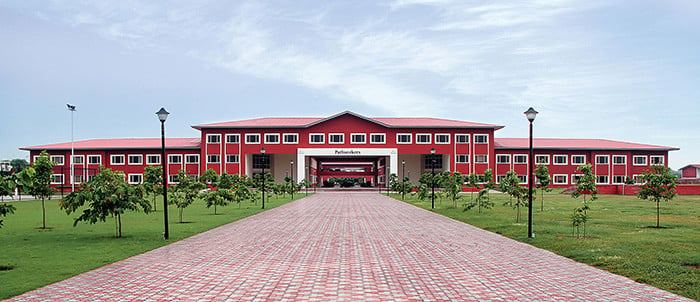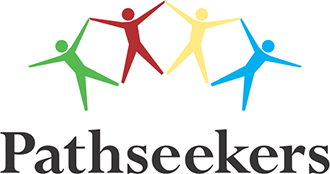 Background
The RSSB Educational & Environmental Society is a registered society with its headquarters at Dera Baba Jaimal Singh, Beas, Punjab. Under the aegis of this society, Pathseekers School was started on 1 April 2014 with 570 students in Pre-primary and Primary wings in different classes. This number has now grown to around 900 and is likely to reach around 1200 by 2019–20, when the school will include class XII. The students are children of sevadars and employees of Dera and the hospitals in Beas, Bhota and Sikanderpur. The school is spread out over an area of about 38 acres and is affiliated with the Central Board of Secondary Education (CBSE).
The school is headed by a Principal, who is assisted by two Headmisstresses, each one overseeing the Pre-primary/Primary and Middle/Secondary classes. There is a highly competent and dedicated group of 89 teachers of various disciplines, supported by a team of 87 people managing the school. All school staff are provided with housing in Dera free of cost.
Vision
The vision at Pathseekers is to provide a secure and enabling environment that supports the creation of good human beings by imparting value-based education. The culture aims to promote values of love, respect, compassion, patience and tolerance.
Recognizing that each child learns differently and at his/her own pace, the curriculum offers a wide range of learning opportunities through games and sports, carpentry, pottery, weaving, art and craft, drawing, cooking, music, dance and drama. It equips children with the skills and abilities that will prepare them for life.
The exposure to experiential learning helps the childen to become self-aware, independent thinkers, capable learners, confident and informed decision makers. This inquiry-based approach ensures that learning happens beyond the four walls of the classroom. These experiences aim to be inviting, engaging and challenging for all children. A life-skills program, value education and co-curricular activities are interwoven into all classes across all grades.
Curriculum and Teaching Methodology
As children learn by inquiry, research and experience; the school follows an inquiry based approach. The curriculum is integrated across basic subjects of English, Math, Science, Social Science, Hindi and Punjabi. Visual and Performing Arts and Information and Communication Technology (ICT) are used to explore themes and are also independent subjects for exploration.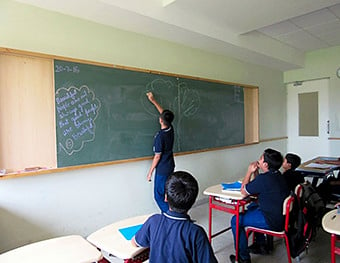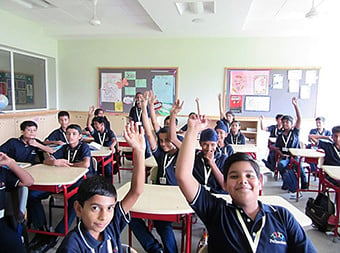 Curriculum for Pre-Primary Wing
The curriculum aims to make the child's learning enjoyable and comfortable. It is designed to nurture young children and stimulate their language, physical, cognitive, and creative development and encourage positive self-esteem and social interaction. It is designed to meet the individual needs of each child, emphasizing the building of autonomy and problem-solving abilities in the following areas: music and movement, environment and nature, language, gross and fine motor coordination, creative arts, story and dramatic play, physical development, creative development, and outdoor play.
Curriculum for Primary and Middle Wings
A project-based approach is followed where the child learns individually or in groups and builds experience. Children are encouraged to explore and acquire new skills. Children learn in a realistic environment or in real-life situations and are encouraged to raise questions and find answers to these questions through various methods.
Teaching Methodology for Pre-Primary Wing
The school follows a thematic approach by interweaving a project approach and is based on the following points:
Children need large blocks of uninterrupted time to explore activities and master new skills. When children play, they use their imagination and develop creativity.
Children develop fine motor skills by working with puzzles, crayons, markers, play dough and boards.
Children experience cause and effect by building up blocks and knocking them down, using sand and water (measuring, pouring, etc.), and rolling cars.
Teachers help children's language development by reading to them, singing simple songs with movement and encouraging their participation.
Teaching Methodology for Primary and Middle Wing
Various new and effective methods of teaching are used to make learning enjoyable. Concepts are taught using a blend of role play, group discussion, quizes, dramatics, poetry, puzzles, presentations, videos, educational games, etc. The school offers varied activities in special rooms: logico-mathematical, music, dance and drama, language lab, art and craft, drawing, the Little Chef program (cooking), weaving, carpentry and pottery. (Sculpture, photography, robotics, and music are additional activities for the Middle Wing.) The school has structured the timetable so that all children engage in co-curricular activities, such as arts, sports, and carpentry, within school hours, along with academic subjects.
Assessment
The assessment aims to evaluate students' abilities in real-world contexts. In other words, students learn how to apply their skills to authentic tasks and projects. Assessment is carried out in three ways: Diagnostic or pre-assessment, Formative assessment, and Summative assessment.
Parent Participation
Parents play a very important role in a child's development, so they are included in the activities of the school. There is a system for regular feedback to parents on their child's performance. Parents are also involved on a voluntary basis for community support to the students and school. Parent-teacher meetings provide a forum for building rapport between teachers and parents and for regular communication about a student's progress. These meetings are conducted every month.
Excursions and Field Trips
Pathseekers believes in exploration of knowledge rather than the imparting of mere facts. Field trips are an integral part of the school activities and curriculum. Educational excursions help children build experience and learn by observing and exploring.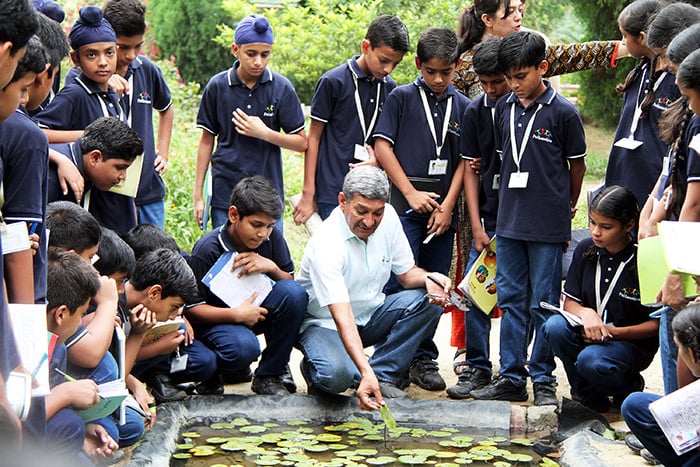 Celebrations
Children are made aware of cultural diversity and how to respect it for community bonding. Religious festivals and national and international days are celebrated. The essence of the festivals is told through stories, music, dance and drama, food, discussions and a variety of hands-on activities.
Character Building
Weekly lessons on divinity, values and life skills help to nurture and develop children to become responsible citizens. Value education is included in all academic and co-scholastic disciplines in the regular lesson plans. There is a daily 20-minute assembly, at which the school prayer, current affairs, and a thought of the day are regular features.

School House System
The house system at Pathseekers aims to give students a sense of identity and pride in a supportive and secure environment. The school is divided into four sub-units called 'houses' and each student is assigned to a particular house. Houses may compete with one another at sports and maybe in other ways, thus providing a focus for group loyalty. The houses encourage positive competition and a closer rapport between students and teachers. This helps new staff and students adapt to the culture of Pathseekers School.
School Buildings
All buildings are air-conditioned and designed to promote a learning environment. Classrooms are spacious and furnished with modern flexi-furniture to suit new teaching methods. There are four main buildings for Pre-primary, Primary, Middle and Secondary wings. Each is designed, furnished and equipped with furniture and equipment suitable for the specific age group. The school has 50 classrooms, audiovisual rooms, offices, an IT room, an infirmary, four multipurpose halls, a dining hall, activity rooms, an indoor stadium, an outdoor open-air stadium, and a gymnasium. Work centres promote student creativity. The school has well- equipped laboratories for science, languages, social studies, maths and vocational education.
Staff rooms and teachers' work stations take care of the needs of the educatators. Use of information and computer technology (ICT) in teaching and learning interactions is highly promoted. It is facilitated by a state-of-the-art computer laboratory, computer-technology-enabled classrooms and a modern audiovisual language laboratory.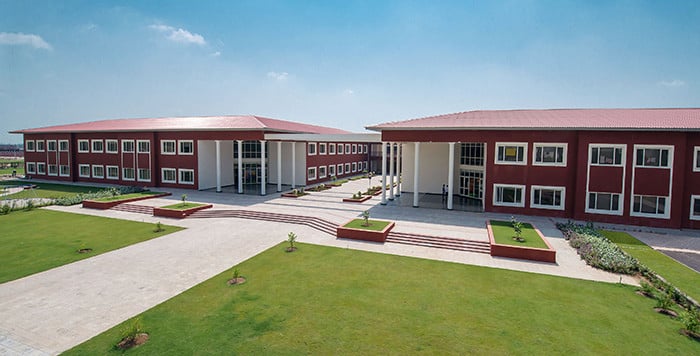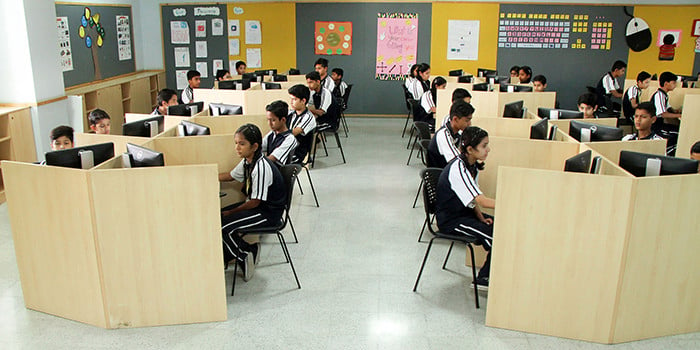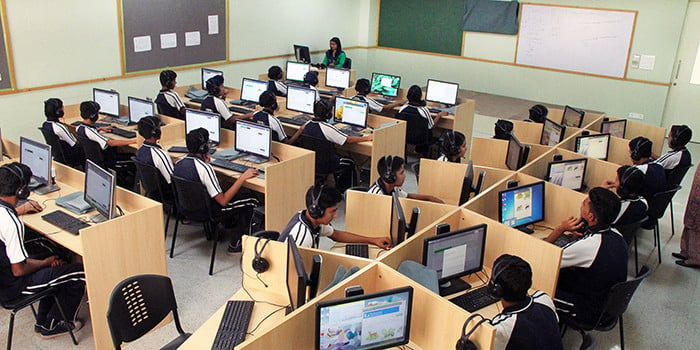 Hobby Centres
The school has a dedicated team of trainers and teachers who guide the children in music, dance and drama, weaving, art and craft, cooking (the Little Chef program), sculpture and carpentry.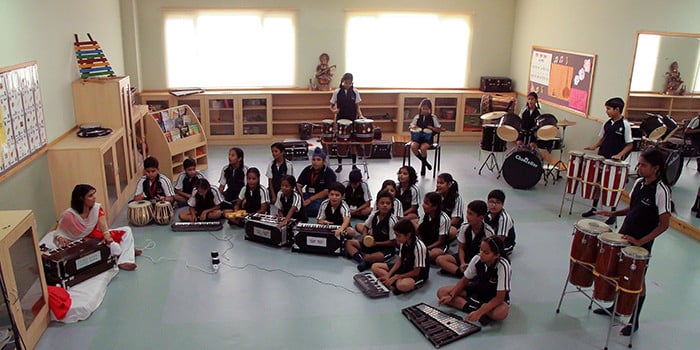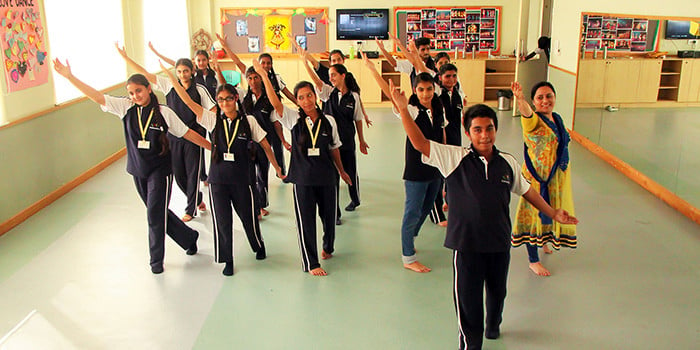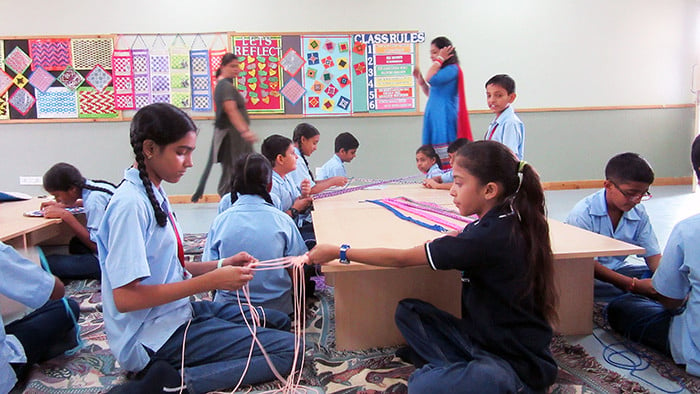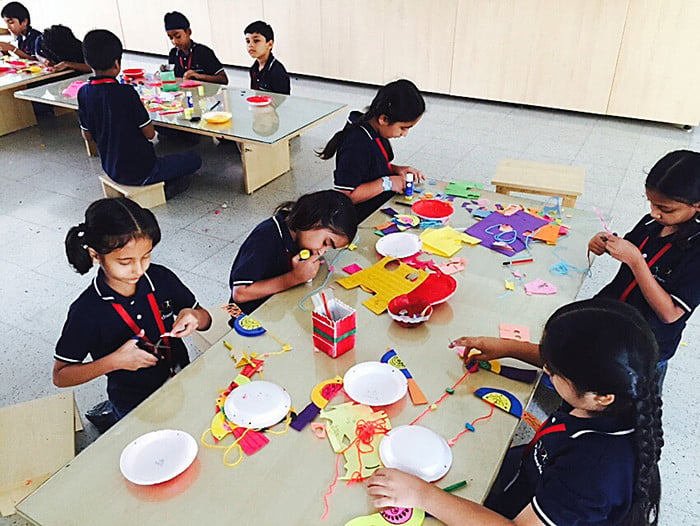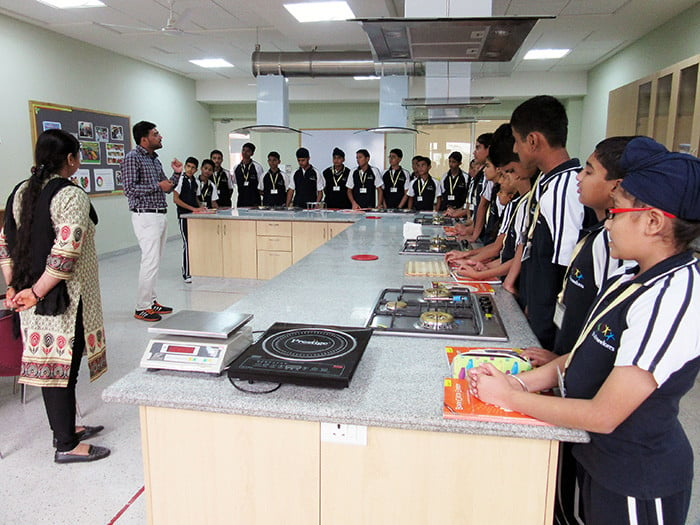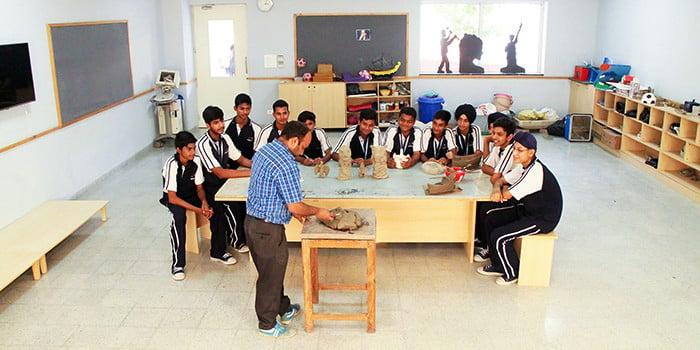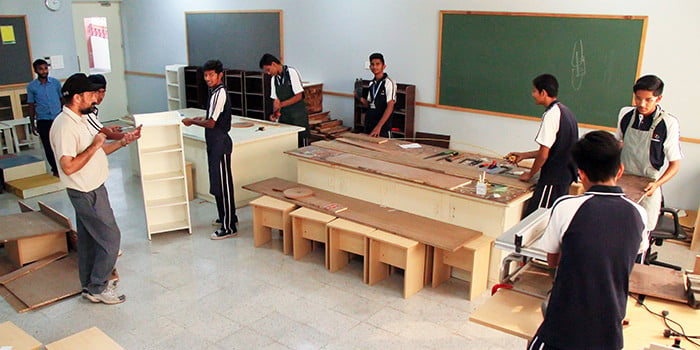 Library
There is a reading corner in every classroom so that students develop a taste for reading. The school has a well-stocked library with a separate section for students and teachers in every wing. The library is stocked with fiction and nonfiction, reference books, newspapers and magazines. Story-reading sessions are held in the library. There are about 15,000 books of different genres on a variety of subjects. Children are encouraged to use the library and its resources for research and study from morning till evening in their free periods or allotted library periods. In addition to this, primary and pre-primary classes have class libraries to attract children to the world of books.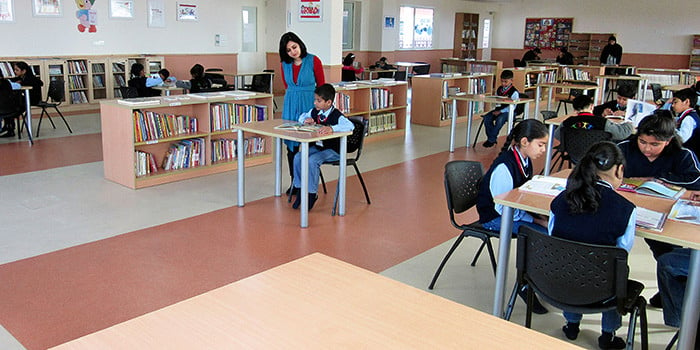 Special Education and Counselling
The school is proactive towards students' special-education and psychological needs. There is a separate Special Education Needs department with suitable classrooms and two full-time counsellors and two dedicated special educators. Every child is unique and has a right to be educated and prepared for life. Students with special needs are admitted and their special requirements in terms of infrastructure, curriculum and activities are taken care of. There is a team of special-education teachers who prepare special curricula for children's specific needs, and their abilities are developed in regular classrooms where they mingle with other children. Along with this, individual sessions are also conducted.
There are well-qualified health and wellness teachers, who provide counselling to the students as well as to the parents. Counselling sessions aim at developing self-esteem and building confidence in their ability to handle their problems and redirect their behaviour.
Central Dining Hall
Since nutrition is an integral part of growth and development, there is close coordination between the Central Dining Hall management and the Bhojan Bhandar (the Dera's restaurant) as well as with medical personnel. A tasty, nutritious and balanced diet is provided to all. The dining hall can accommodate 600 students at a time. Mid-morning breakfast, lunch, and evening milk is served to students and staff on all working days.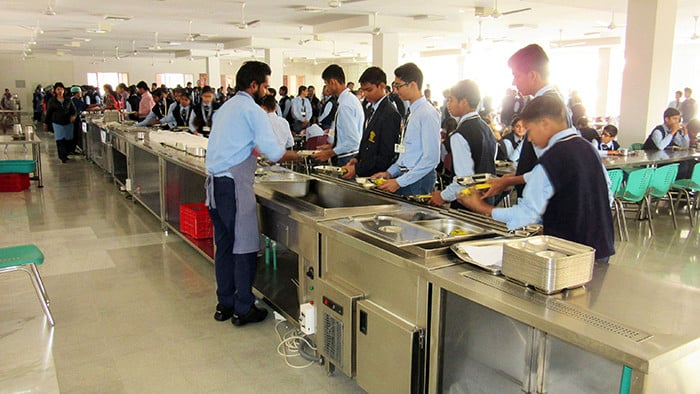 Laboratories
As already mentioned, information and communications technology is highly promoted and facilitated by a state-of-the-art computer laboratory, computer-technology-enabled classrooms, and a modern audiovisual language laboratory. In addition, there is a language lab, mathematics lab, composite lab and a robotics lab, where students attempt to create their own human-friendly robots.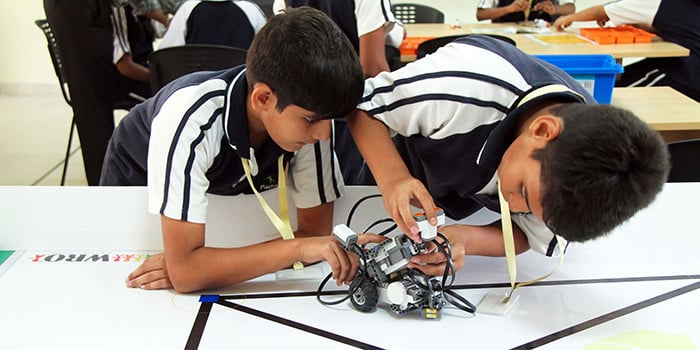 Best Practices
Some of the best practices at Pathseekers are:
Qualitative holistic education based on the unique character of each child
Community engagement and learning for life
Cross-integration of curriculum
Differentiated teaching
Inquiry-based interdisciplinary projects
Vocational education
Democratic students' governance
Activity-based learning
100% participation in all domains
Student's Health and Well Being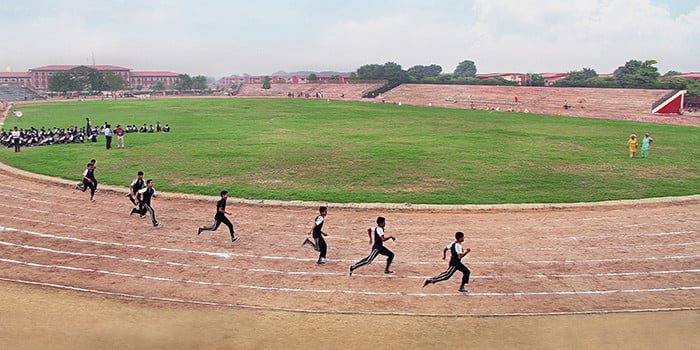 Sports have always been viewed as a way to stay healthy and fit, but their importance goes much further. Participating in sports teaches life lessons like discipline, responsibility, self- confidence, accountability, and teamwork. Studies have shown that exercise increases blood flow to the brain and helps the body build more connections between its nerves, leading to increased concentration and enhanced memory. It stimulates creativity and develops problem- solving skills. In short, playing sports helps your brain grow and makes it work better.
From a social standpoint, sports are a powerful tool that brings people together and create a sense of community. They develop connections that bond together people from all walks of life. Pastimes such as internet, television and computer games can make children sedentary and increase the risk of obesity. Participation in school sports provides a sense of belonging and being part of a team or group. Engaging in sports reduces the amount of unsupervised free time and prevents boredom.
Playing Fields and Sports Activities at Pathseekers
The school campus includes three large playing fields where children can play, exercise and practise. An expansive Sports Complex, including a track, has been added that meets international standards. All playing fields are properly watered and maintained by expert gardeners. School grounds are also used for celebrating various functions and an annual sports day.
The school has high-quality equipment and trainers for table tennis, volleyball, basketball, cricket, athletics, hockey, football, yoga, gymnastics, and roller skating, as well as a modern gymnasium for senior students. At Pathseekers sports activities begin for students as young as toddlers. The same spirit continues through primary, middle and secondary grades.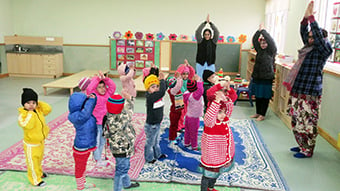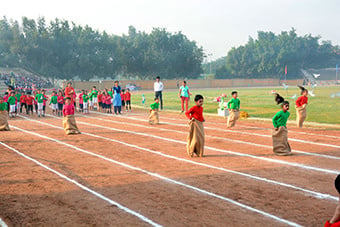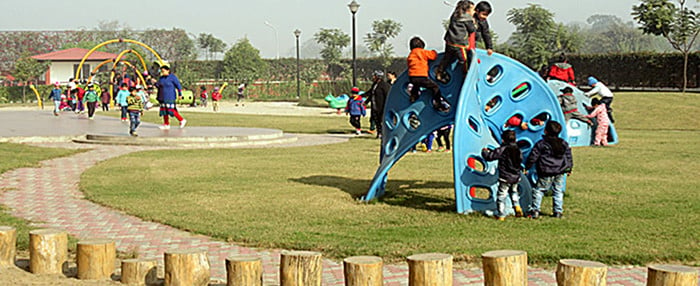 In addition to physical education classes during the school day, Pathseekers holds after-school sports for primary school students consisting of gymnastics, yoga, volleyball, skating, and high and long jump, to name a few. The goal is for students to develop self-esteem, enabling them to achieve their highest potential and to imbibe the school's vision and mission.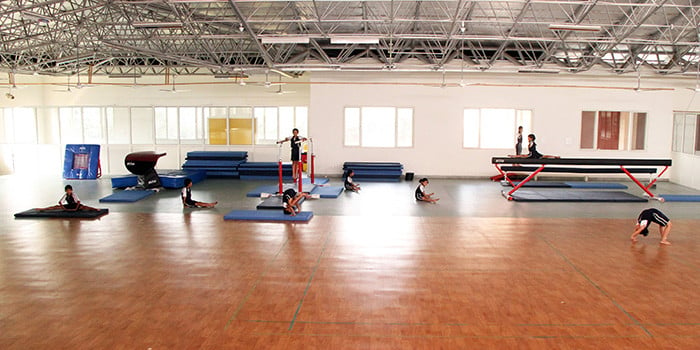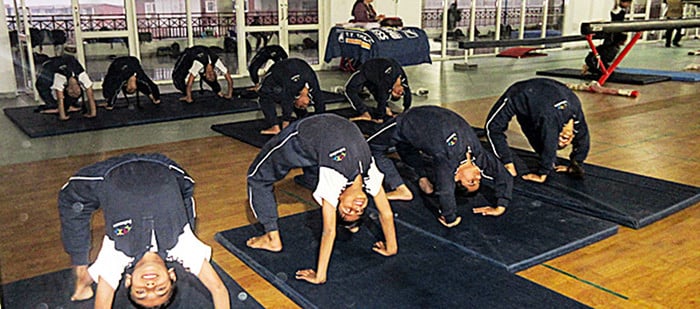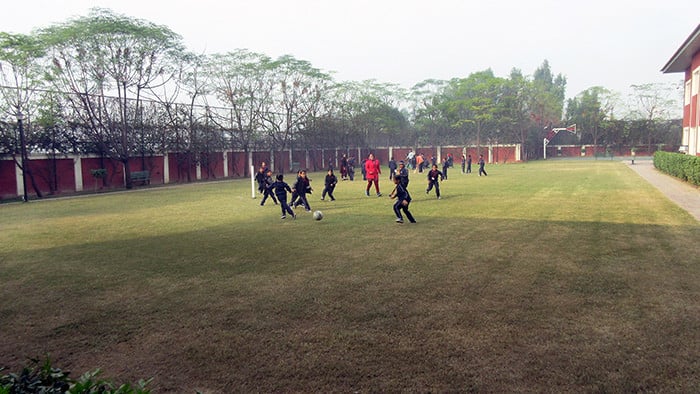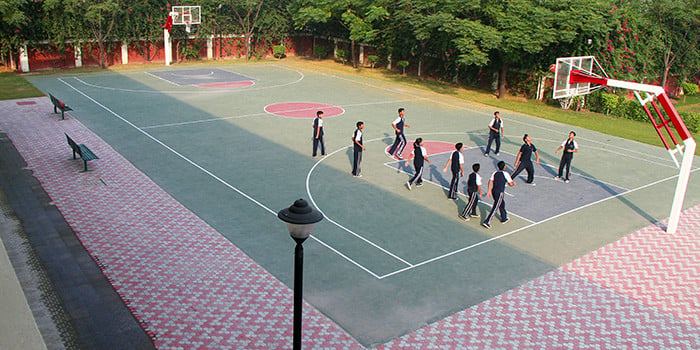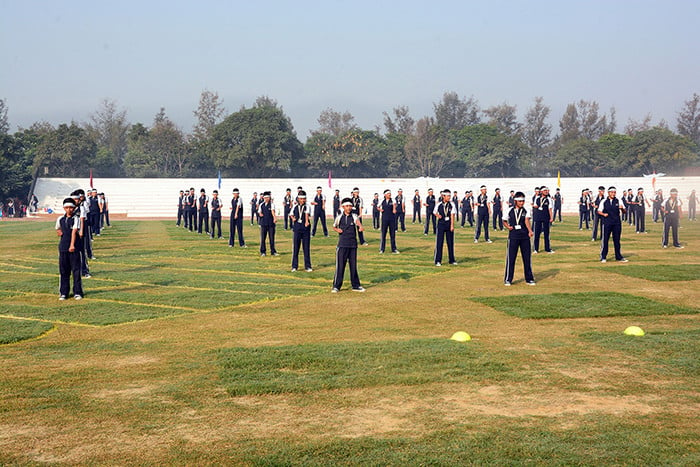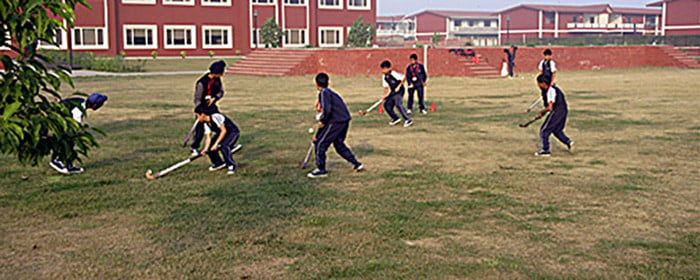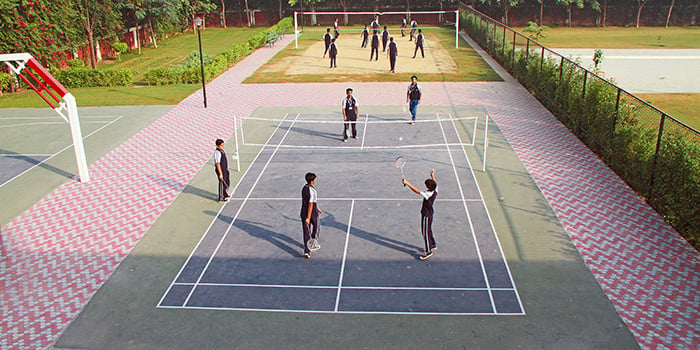 Gymnasium
Our aim is to develop students' enthusiasm and interest in physical activity, and then to encourage them to participate regularly during their time at Pathseekers. We hope that this exposure to a wide range of physical activity at Pathseekers School will encourage pupils to continue with regular physical activity later in life.