Awareness Programs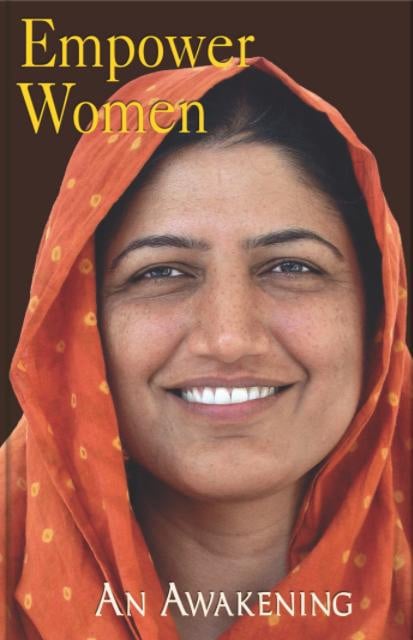 Empower Women: An Awakening
Empower Women is a response to a grave situation developing in Indian society today: the increasing practice of sex-selection by killing female infants in the womb. The book takes a look at the cultural norms that underpin a deep-rooted tradition of son preference, draws our attention to the scale of the crisis, and highlights the far-reaching effects of having a society where men outnumber women at an ever-increasing rate. The book calls out to our conscience to consider the profound consequences of our actions.
The central thrust of the book is a powerful concept: that our morality is not separate from our spirituality. If we consider ourselves good human beings, then our actions towards the women in our lives must reflect this. Empower Women suggests that far from being a burden, women are among the creation's most precious treasures. The book outlines the simple ways by which women can be empowered.
Read online HTML or English PDF or Hindi PDF
Download HTML or English PDF or Hindi PDF
---
Nari Ko Adhikar Do (Ek Jagrati)–(9:16 min.)
A short film on Female Foeticide

Based on the poem, "Beta hua toh dhol bajaya! Beti hui toh matam chaya!" this video spotlights the crisis of female foeticide in India. It raises awareness of the consequences of living in a world with fewer and fewer women and highlights the tremendous value women bring to families and society, boldly urging women's empowerment.

Click to download
---
Sujakha (13 min.)
A short film on Eye Donation.

Satwant, ailing wife of a village school teacher, is moved to see Sujakha, a young blind boy, sitting outside the school, trying to learn arithmetic tables. She decides to donate her eyes to the boy after her death. Sujakha's eyesight is restored as a result. Both school teacher and Sujakha pledge to donate their eyes after their deaths in the hope that a day will come when no one in the world will be left blind.

Click to download
---
Anmol Tohfa (16 min.)
A short film on Kidney Donation.

When a man finds out that an employee in his office is about to lose his life because he cannot afford a kidney transplant, he quietly offers his own kidney and saves his employee's life. In the process he feels more in touch with his own humanity and becomes closer to his wife who, inspired by his selfless gesture, decides to donate her own organs.

Click to download
---
Sarpanch Jarnail Singh (13 min.)
A short film on Organ Donation.

A village headman is deeply troubled by the death of one of his villagers due to kidney failure. He first raises awareness among his people about organ donation by convincing the 'city doctor' to address them about the problem and its solution. He then inspires and mobilizes the people, loading up his tractor with enthusiastic villagers and heading to the city hospital to sign them up for organ donation.

Click to download
---
Zara Si Galti (28 min.)
Film on AIDS Awareness.

Neki Lal is shocked to see HIV+ written in his wife Bimla's blood report. His immediate reaction is suspicion. He contacts her uncle, retired Inspector Singh, to investigate the truth behind the report. Inspector Singh discovers that it was Neki Lal's pre-marital relationship with an HIV+ infected woman which caused the HIV+ infection in him and in his wife. Bimla is devastated to hear the truth, but shows great courage in looking at life positively.

Click to download
---
(Nasha Shehar Kasba) Drug Addiction (15 min.)

Drug addiction is a scourge the whole world over, especially in Indian society. Using two situations — one rural and one urban — this short film depicts the negative effects of drug addiction on young people and their families. A young man falls into the drug habit due to the company of his friends and lack of direction in life. A teenage girl suffers from a lack of attention from her busy parents, and becomes addicted to drugs as a way of coping with her loneliness. Both these situations reveal the pitfalls of drug addiction in both rural and urban environments, and offer solutions for those addicted through medical and psychological care.

Click to download
---
Brain Death Movie (7 min.)
This short film explains what brain death is, how it differs substantially from coma, and the dilemma faced by the family in deciding what to do next. A comatose patient might regain consciousness, but brain death is Death! No one has ever awakened from brain death. Yet, though a person may have died, his or her organs (including the heart) can be kept alive for a few hours or even days.

The film answers some of the most pertinent questions on this subject: How do we know the Brain has died. If brain death means the patient has died, how and why is the heart still beating? How long will the heart continue to beat? Once death is established, what should the family do next? Should the family wait till their loved one's heart stops beating? Or should they pledge to donate the organs and save other lives? It is a very difficult and emotional choice to make at that time.

Click to download
---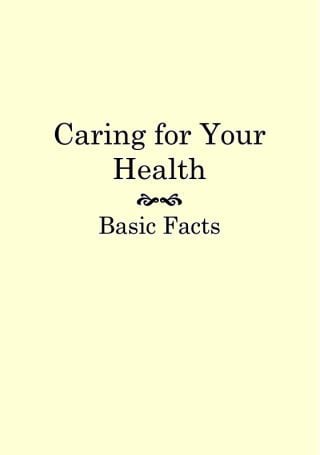 Caring for Your Health: Basic Facts
Caring for your Health is a free booklet that provides information on how to maintain good health and prevent disease. It touches upon various aspects of health care including eye care, dental health, basics of hygiene and offers practical information to help develop good health habits in both children and adults. The booklet discusses signs and symptoms of commonly found diseases such as prostate cancer, heart diseases, diabetes and HIV/AIDS, and also provides suggestions for their prevention.
Describing organ donation as 'the gift of life', it provides information on how donation can save lives, who should donate, along with when and how to donate. This booklet is not a substitute for medical advice and readers are advised to seek advice from a medical practitioner.
Read online HTML or English PDF or Hindi PDF
Download HTML or English PDF or Hindi PDF