COVID Care Facilities at Radha Soami Satsang Beas Centres — May 2020
Delhi 10,000 beds
 Nagpur 5,000 beds
 Ulhasnagar 1,000 beds
 Mumbai 300 beds
The Coronavirus pandemic (COVID-19) outbreak in India has prompted Radha Soami Satsang Beas (RSSB) to make available all its facilities to the Government of India and the District Administrations. RSSB has provided food to the people rendered jobless due to the lockdown, as well as shelter to the migrant labourers and shed space to be used as quarantine centres for COVID patients.
In May, 2020, RSSB recognized the requirement for a large field hospital to serve the Delhi COVID-19 patients. The State of Delhi needed to prepare for a very serious outbreak. Accordingly, RSSB made available to the Government the entire religious meeting centre owned by RSSB in the Chhatarpur suburb of Delhi.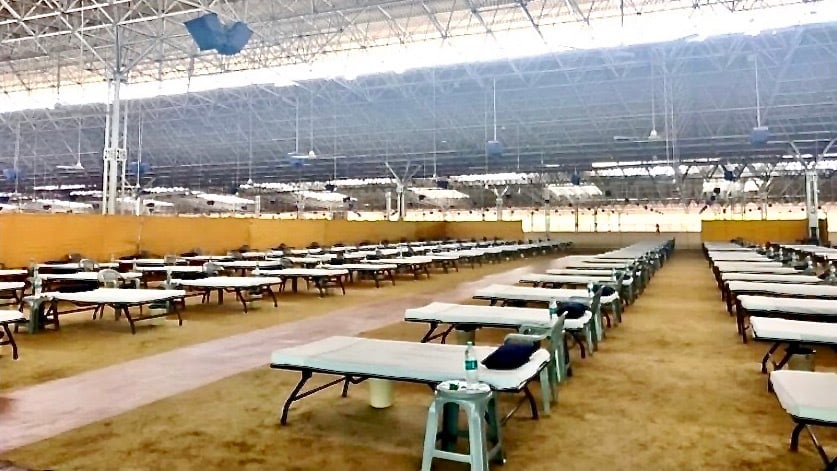 The property covers 300 acres of land of which 70 acres have been set aside for the care centre. This area includes a covered meeting area of 29 acres (the size of 22 football fields), 500 toilets, 450 bathrooms, and car parking for 1500 vehicles. A huge team, comprising volunteers from RSSB, government staff, and members of the Indo-Tibetan Border Police Force (ITBP), created a comprehensive care facility in record time. The floor was covered by RSSB in vinyl to enable hygienic cleaning. The Government installed 18,000 tons of air-conditioning to cool the area.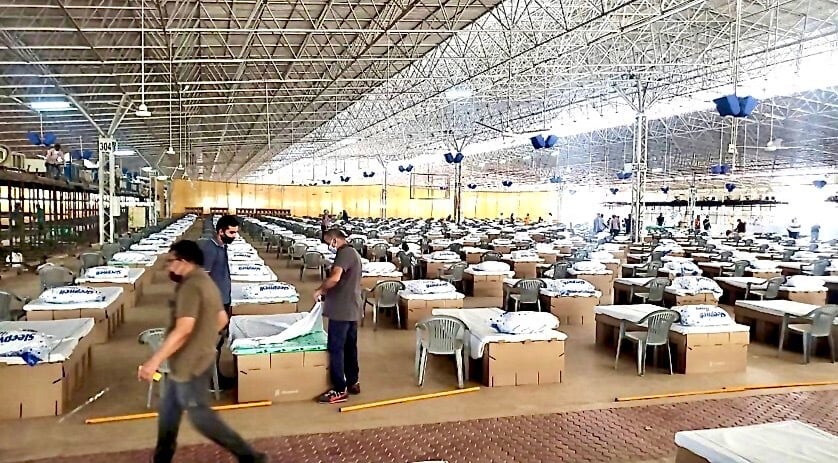 One hundred enclosures have been constructed with 100 beds each. The beds are spaced five feet apart. Each bed has been provided with a small cupboard, stool, dustbin, and toiletry kit. Included in the bed count are a large number of biodegradable beds manufactured from cardboard, each of which will be discarded after a single use and replaced by a new one. Oxygen support is available at 10% of the beds. The Centre will have two sections – one for asymptomatic patients who have tested positive for the virus and one for the patients who are suffering symptoms. The facility was created by the District Administration with full support of the ministry of home affairs on an emergent basis.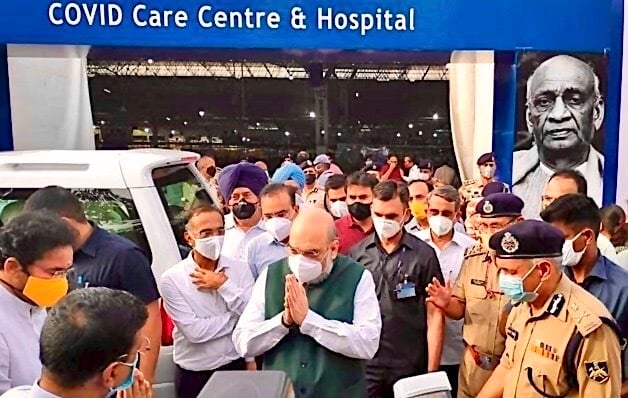 The facility has been named "Sardar Patel COVID Care Centre and Hospital". With the intent to evaluate the suitability and adequacy of the arrangements, it was earlier visited by the Honourable Home Minister of India and Honourable Chief Minister of Delhi on 27th June, 2020.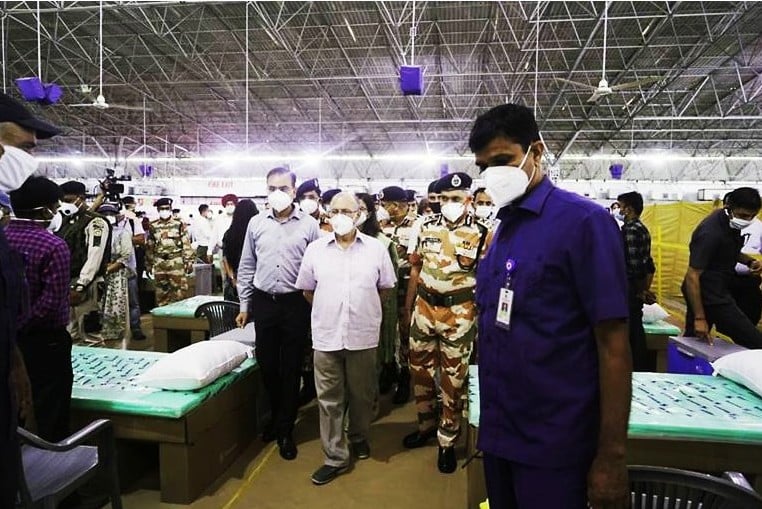 The facility was inaugurated by Mr. Anil Baijal, Honourable Lieutenant Governor of Delhi on July 05, 2020. After the inauguration, the entire facility including the availability of beds, oxygen cylinders, concentrators, ventilators, ICUs and medical staff was reviewed by the Honourable Lieutenant Governor.
The centre will be staffed by the ITBP and the Indian Army. More than 1,000 doctors, nurses and paramedics of the ITBP and other Central Armed Police Forces, plus 1,000 paramedics and security staff, will attend to patients when it is fully operational. More than 75 ambulances will also be deployed at the Centre.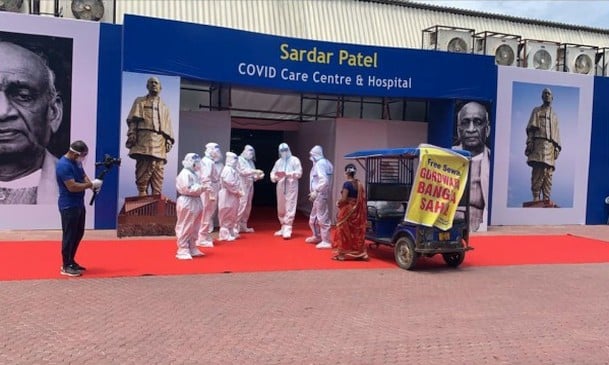 Patients and staff will receive three meals a day prepared on site in the facility's industrial scale kitchens run by RSSB volunteers. Each patient will receive vegetarian food and vitamin supplements as recommended by the doctors. RSSB is providing all food and support services free of charge. One example that illustrates the enormous scale of the project is that three vegetarian meals a day will be provided for all the 10,000 patients and 2,000 health care workers. Meals will be served in disposable food-grade plates. Many of the healthcare workers will also be accommodated on the campus.
This facility, having largest number of beds, in one single campus, requires speed of management as well as analysis and operations that make it imperative to explore the extensive use of information technology. Accordingly, over 350 computers and 100 computer tablets will ensure that all processes from admission to discharge will be recorded electronically, with nurses reports filed via the tablets. RSSB is proud to be associated with what is said to be the largest COVID-19 care centre in the world.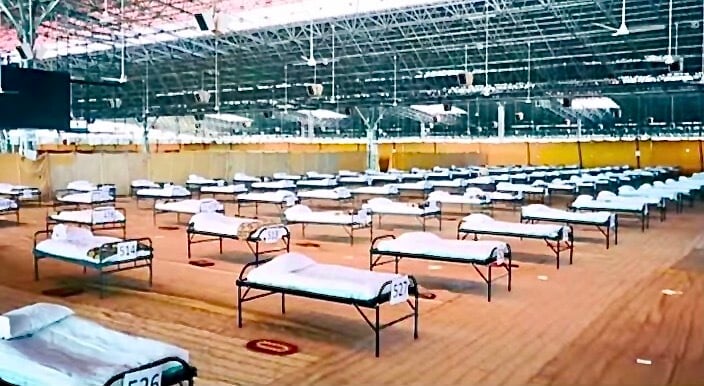 Appreciating the need of the country for large-scale management of COVID-19 patients, RSSB has already handed over its major religious meeting centres in Mumbai (Bandra) and Nagpur in the State of Maharashtra to the respective District Administrations to manage COVID-19 patients.
RSSB has offered its premises at the city of Nagpur (Maharashtra) to the Nagpur Municipal Corporation (NMC) where they have set up a 5000-bed 'COVID-19 Care Centre' in an area of 600,000 Sq. Feet out of the total area of 11,40,000 Sq. Feet. The NMC plans to use this facility for screening and quarantine.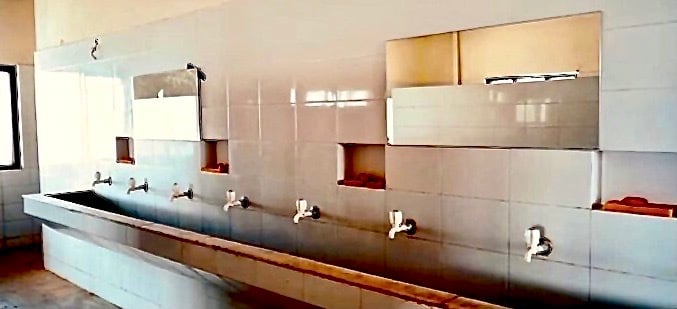 Apart from providing its premises and infrastructure, RSSB has made arrangements for matting, barricading, compartments and siding. Drinking water facilities along with meals for the patients, medical, paramedical staff, and the concerned officials will also be provided by RSSB 24/7. Arrangements for the housing of medical and paramedical staff, police personnel, and government employees engaged in sanitation work have also been made at the premises itself. NMC has put in place the required testing facility at the premises where apart from checking temperatures, examination of blood samples will also be conducted.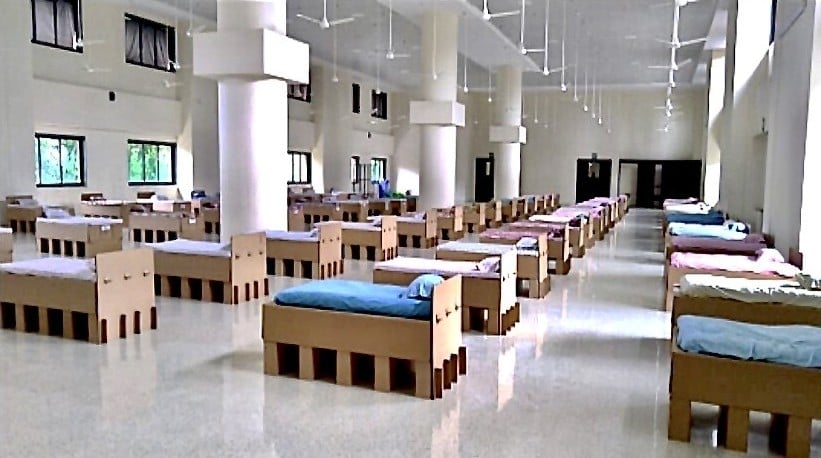 RSSB has also made available its facility at Bandra (Mumbai), which is a fully finished multi-storied building which has all the amenities such as lifts, fire-fighting system, and separate toilet blocks for gents and ladies on each floor. The Corporation has set up 60 beds on each of the five floors (57,000 Sq. Feet) which makes 300 beds available for COVID-19 patients. This facility has been handed over to the Municipal Corporation of Greater Mumbai for setting up a COVID Care Centre. Similarly, 1000-bed COVID care facility is being set up in Ulhasnagar, District Thane, Maharashtra.
In addition, RSSB has offered to the Government its religious meeting centres at major cities all over India for setting up care facilities for COVID-19 patients. Premises are being made available when requests are received from the Government.
---
For more information you can click on the two URLs below:
Aerial view of the Radha Soami Satsang Beas COVID Care Centre at Chhatarpur, New Delhi.
The Lieutenant Governor of Delhi, Mr. Anil Baijal, inaugurating the Sardar Patel COVID Care Centre at Radha Soami Satsang Beas, New Delhi, on July 5, 2020.