Migrant labourers in Haryana pass their time doing yoga, satsang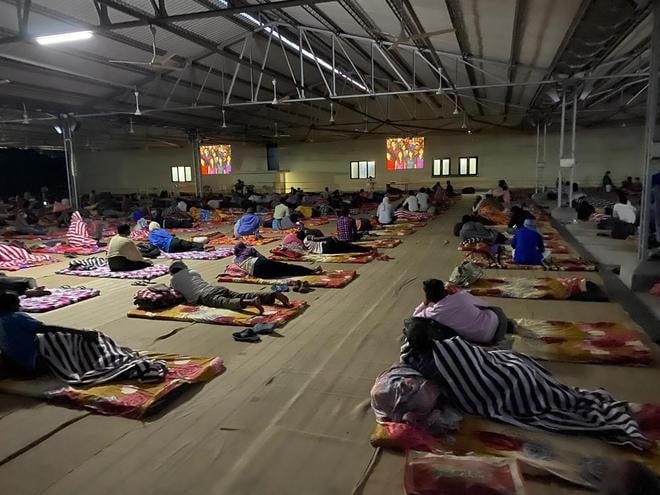 Migrants watch a spiritual movie at Radha Soami Satsang Bhawan in Kambopura, Karnal district.
(The Tribune, India, April 5) – To keep migrant labourers busy and healthy in the 21-day-long lockdown, they are being involved in various recreational activities at all the five shelter homes which have been set up for them.
Yoga instructors are imparting training to them from 6 am to 7 am to keep them healthy and spiritual movies and 'satsang' are being screened with the help of projectors in the evening.
The migrant labourers are also enjoying the recreational activities. "No doubt, we are away from our home and have no certainty about our future in this lockdown, but we are happy with the hospitality of the Karnal people. Steps like yoga and screening of spiritual movies are appreciable," said Sher Singh, a migrant labourer at Radha Soami Satsang Bhawan, Kambopura, where around 250 migrant workers have been accommodated.
Another labourer Hemraj, who came from Gobindgarh in Punjab and hails from Gorakhpur in UP, said that earlier they had nothing to do, but now they are doing yoga which will help them keep fit.
"In our daily lives as factory labourer, we never thought of getting yoga training, but now, we feel yoga is also an essential part of life," said Khusi Ram, a resident of Badiyu in UP.
Moreover, they are being offered work during the harvest season. "To keep them busy and healthy, we have roped in yoga instructors and sports coaches. Movies and 'satsang' are being screened in all the five shelter homes for their entertainment," said Nishant Kumar Yadav, Deputy Commissioner. "We have offered them work for the harvest season in the fields as well as grain markets. We have asked them to give their consent if they are willing," he added.
After the lockdown was announced, scores of labourers from Punjab and Haryana started moving towards their homes in UP and Bihar, leading to chaos in Delhi. After witnessing the huge gathering, the Union Government had put the state governments on alert and ordered all the state governments to make necessary arrangements to stop the migration.
The state government had also asked the district authorities to set up shelter homes and provide them food. The Karnal administration had set up five shelter homes in Radha Soami Satsang Bhawans located near Kambopura, in Sector 32, on Kaithal road, in Nilokheri and in Gharaunda.
Around 800 workers are presently accommodated in these shelter homes. They are being provided food which is prepared by the volunteers of the Satsang Bhawans. Their health is being checked daily.