Gujarat
Gujarat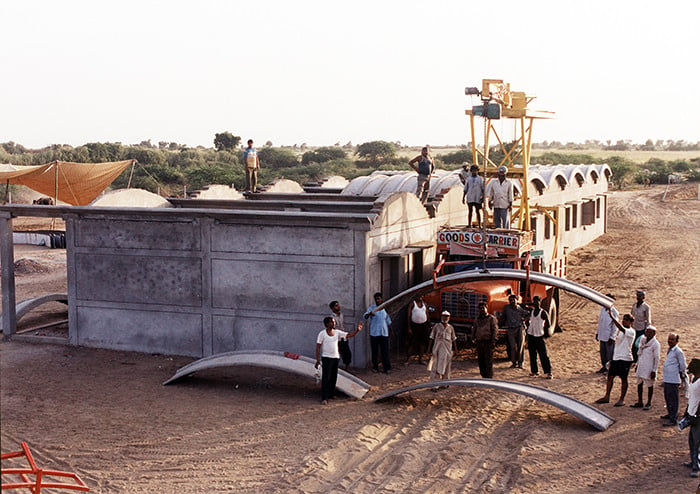 Gujarat Relief – Construction of earthquake-resistant school.
On January 26, 2001, a massive earthquake struck the state of Gujarat killing 20,000 people and destroying thousands of houses and other structures. The destruction was so great that all buildings in Bhuj, Anjar, Bhachau and villages in that area were reduced to rubble. RSSB immediately offered support in the most affected districts of Bhuj, Kutch, Patan and Ahmedabad. Working closely with state and local government, the provision of tent schools was identified as a high priority. Two hundred and fifty volunteers were immediately deployed to begin relief efforts. In just 16 days, 1,250 tented schoolrooms were set up in 56 villages and 120 schools of Kutch and Bhuj District. These temporary schools were among the first completed in the post-disaster relief program in the state and created a much needed sense of stability and normalcy for children, parents, teachers, and their communities. The immediate result of providing the tents was that schools began operating again at a time when nothing else was working. Many of these tent schools were also used as shelters at night. The Government of Gujarat then asked RSSB to undertake school construction to meet longer-term needs. RSSB developed an earthquake-resistant school design along with a fully constructed prototype school that was approved by the state government. The buildings were designed to address the following factors:
All the school buildings were designed for Earthquake Zone- V requirements.
As they are public buildings a factor of 1.5 times was taken to make the design of schools suitable for the relevant IS Standards.
The design was made with the understanding that no material was available in Santalpur villages; therefore the bulk of the buildings had to be prefabricated at the factory in the Ahmedabad Center.
A sample school was built at the Center, out of material produced in the factory. This simple school was approved by the Chief Minister of Gujarat and his cabinet members.
RSSB then set up manufacturing facilities at its Ahmedabad Centre in March 2001 to produce and prefabricate structures. Every school was built on land provided by the local village or state government. Each school took 10 to 15 days to complete, has at least three classrooms, functional toilets, sports facilities, security fences and gates, and is environmentally protected by neem trees. Overall, 69 earthquake-resistant schools with a total of 481 classrooms were manufactured and constructed by 3,000 volunteers within seven months. All completed schools were handed over to the Education Department by October 31, 2001.
Some of the salient features of the schools are:
Earthquake-resistant buildings on a minimum one and a half acre land.
Minimum three-room school with modern toilet facilities.
Schools are fenced and provided with gates.
All classrooms are fitted with fans and tube lights.
Neem trees are planted in the compound and bougainvillea on the fence.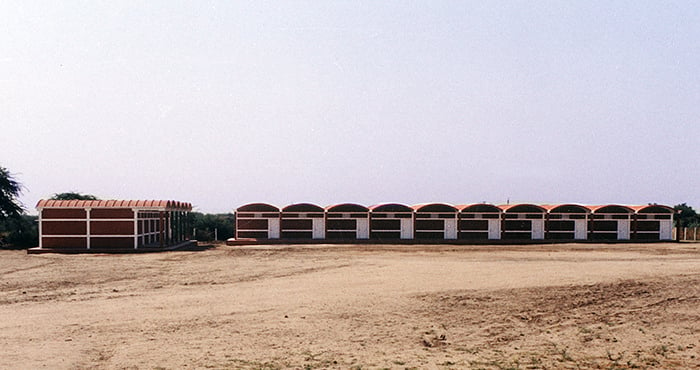 Gujarat Relief – Finished school complex.