Nepal
Nepal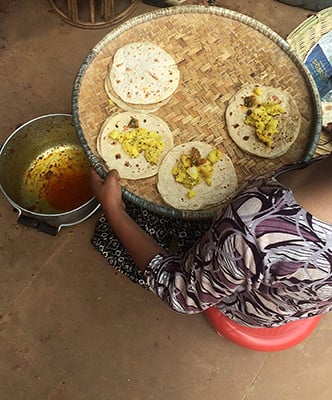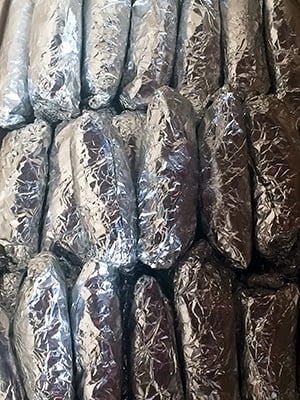 Nepal Relief – Preparation of food packets for general distribution.
On April 25, 2015, Nepal was hit by one of the largest earthquakes on record, causing extensive devastation in Kathmandu and surrounding areas affecting eight million people. Nine thousand people were reported killed, 23,000 injured; thousands of structures collapsed and infrastructure of roads and bridges damaged. Such widespread damage rallied many organizations to participate in relief efforts in tandem with national and local government. RSSB immediately opened its Kathmandu Centre to provide shelter and cooked food for homeless earthquake victims and to distribute food packets.
Over the course of a month, food and shelter were provided to 54,037 people and 292,196 food packets were distributed. Responding to medical needs, RSSB fielded a team of five doctors to three posts from May 5-10, treating and giving medicines to 2,000 outpatients a day. From May 7 to May 10 three teams of doctors and pharmacists equipped with essential medicines were fielded to remote areas of Nepal along with teams to run free kitchens (langars) to provide medical care and feed displaced persons. On request from RSSB, a team of 25 doctors from FORTIS Healthcare in Delhi visited Kathmandu and six affected districts and provided medical treatment and drugs for 4,196 earthquake victims.
Subsequent to the provision of essential supplies and services, RSSB was asked to construct sheds to shelter earthquake- affected communities, which can later be repurposed for community social and educational activities. Twenty standardized sheds along with toilet facilities were built on selected sites, with all materials and labour supplied free of charge by RSSB.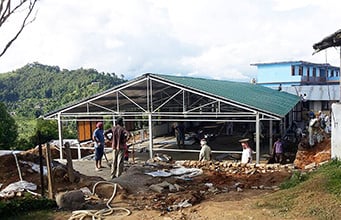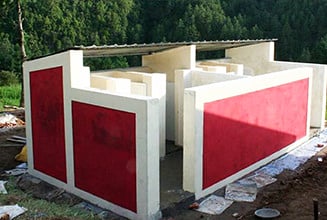 Nepal Relief – Construction of school and toilet block.
Land, electrical and water- supply facilities along with upkeep and maintenance were provided by the local communities. These sheds served dual purposes of night shelters and daytime schools. Thousands of volunteers eagerly participated in these relief efforts.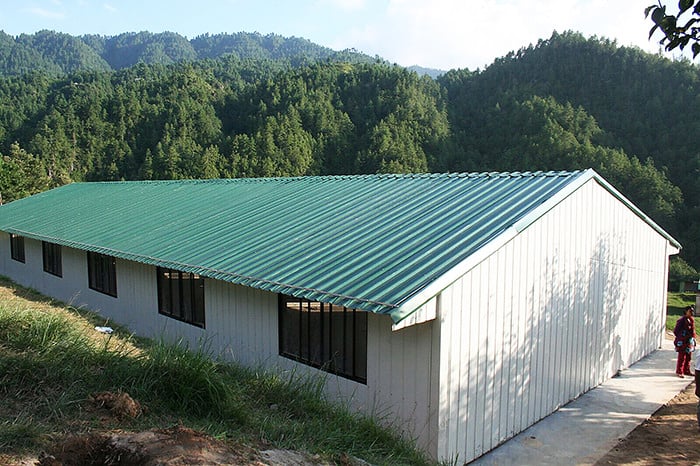 Nepal Relief – School