Dera Hospital
Dera Hospital, Dera Baba Jaimal Singh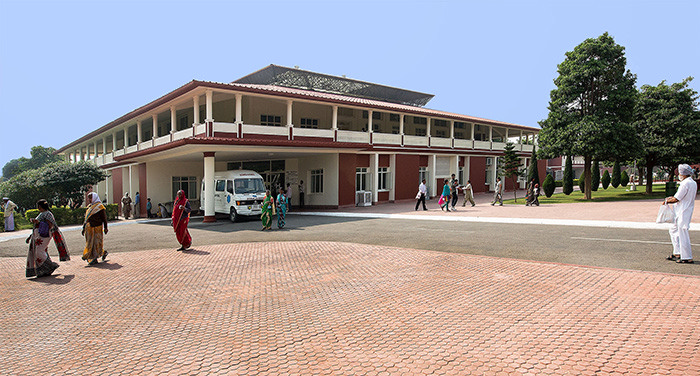 Dera Hospital
A small dispensary was started in 1930s in a single room near the old Secretariat building in Dera. Later on, it was expanded to accommodate a few beds. With the expansion of Dera and a growing sangat, a new Dera Hospital was constructed. The present 30 bed Dera Hospital started functioning in February 2002. The total area of the hospital is 4.63 acres including 3.85 acres of lawns and plantings.
In addition to the Outpatient Department rooms, the ground floor of the hospital houses the following services: emergency medical care, dressings, injections, X-rays, minor operating theatre, ECG, sterilization, physiotherapy and laboratory. The first floor has male/female wards (12 beds each), pharmacy, stores, homoeopathic dispensary and the dental clinic which was commissioned in 2004.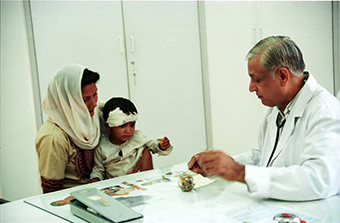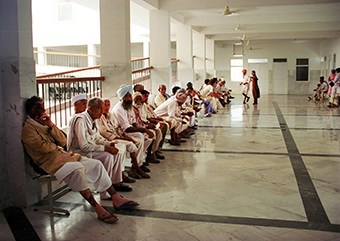 The Dera Hospital provides out-patient and emergency services to the Dera residents and visiting Sangat. To make medical care easily accessible, first aid posts have been established near the visiting sangat's accommodation in the sarais and sheds.
There is a dedicated team of fifty-four sevadars consisting of ten doctors, one dental surgeon, one physiotherapist, eight nursing staff, six pharmacists, two lab technicians and twenty-six non-medical staff.
During designated satsang weekends, approximately 200 doctors and an almost equal number of para-medical staff come from different parts of India and abroad for voluntary services to complement the services of the regular staff.
Services Provided
The Dera Hospital and first aid posts, provides treatment to approximately 1.1 million out-patients and 5,500 in-patients annually. Important services include the following:
Emergency Services: These are provided round-the-clock; approximately 40,000 patients are treated annually.
Laboratory Services: Supervised by a pathologist, approximately 100,000 clinical laboratory tests are conductedannually to assist in patient management.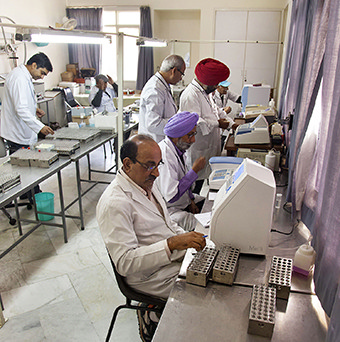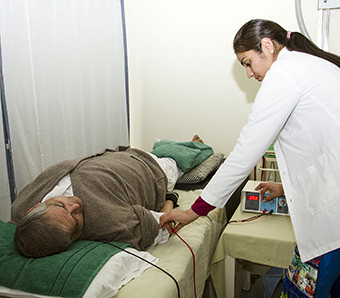 Physiotherapy: Physiotherapists provides various kinds of treatments to approximately 14,000 patients annually. The range and quality of physiotherapy services e.g. manipulation technique, musculofascial release and massage have been enhanced by specialized training for the staff conducted by Fortis Memorial Research Institute, Gurgaon.
ECG: Approximately 5,000 patients undergo ECG screening annually.
X-ray: Over 800 patients undergo X-ray examination; the majority are trauma cases to detect fractures and the balance are for chest infections.
Dental: Nearly 12,000 Dera residents receive preventive and curative treatment annually.
Audiometry and Hearing Aid Facility: This facility is available for Dera residents.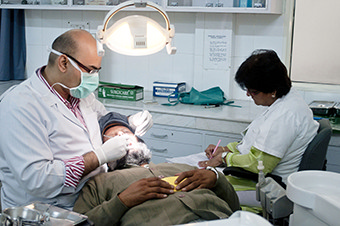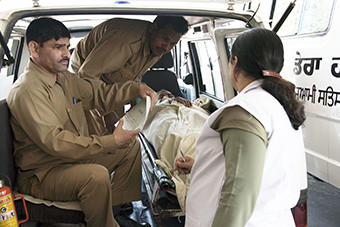 Support Services
Ambulance Services: Two ambulances with basic facilities are available to transport patients from different parts of Dera to the Dera Hospital and to the Maharaj Sawan Singh Charitable Hospital, Beas, which is located 8 kilometers from Dera.
Water and Food Testing: To prevent water-borne diseases and to maintain hygiene and cleanliness, regular inspection of food establishments is conducted. In addition, water and food samples are checked in the laboratory on a regular basis and supervised by a microbiologist.
Prevention / Control of Malaria and Dengue: Dera has an excellent water supply and uses modern methods for disposal of waste water and solid waste. This eliminates mosquito breeding. However, some of the sangat may bring an infection in their blood; it is also possible that transmission among the sangat and Dera residents could take place by mosquitoes from adjoining areas. Therefore, to prevent malaria or dengue transmission, fogging, larvicidal and other preventive measures are undertaken regularly.
Medical Examination: The Dera Hospital conducts medical examinations of people who are undergoing induction into seva positions at the Dera. Sevadars working in food establishments receive check-ups twice yearly and retirees are examined quarterly.
Medical Care for Pathseekers Students: The Dera Hospital provides the primary medical backup for the Pathseekers School. A well-equipped school infirmary, managed by Dera Hospital staff, treats minor ailments. The growth of children less than six years is monitored monthly; students also undergo deworming and receive vitamin A every six months. Adolescent girls are given a supplement once a week for prevention of anaemia.
Eye/Organ Donation: Dera residents and Beas Hospital staff register themselves at the hospital for eye and organ donation as well as whole- body donation.
Homoeopathic Dispensary
There has been a Homoeopathic Dispensary in the Dera since 1980. Starting in 2004, the dispensary has been located at the present Dera Hospital. Headed by a trained homoeopathic doctor, the dispensary provides free treatment to Dera residents. Nearly 11,000 patients attend this facility annually.
Nature Cure Hospital
Commissioned in 1965, the Nature Cure Hospital provides free treatments to Dera residents. Treatments are supervised by a naturopath and junior naturopath and administered by a staff of nine attendants. Treatments seek to prevent and cure ailments with the help of the five elements of Nature (earth, water, fire, air and ether). The main treatments provided include mud packs, enemas, various baths, cold compresses, physiotherapy, magnet therapy, exercises, yogasana, and pranayam. About 1700 inpatients and 14,000 outpatients are treated annually.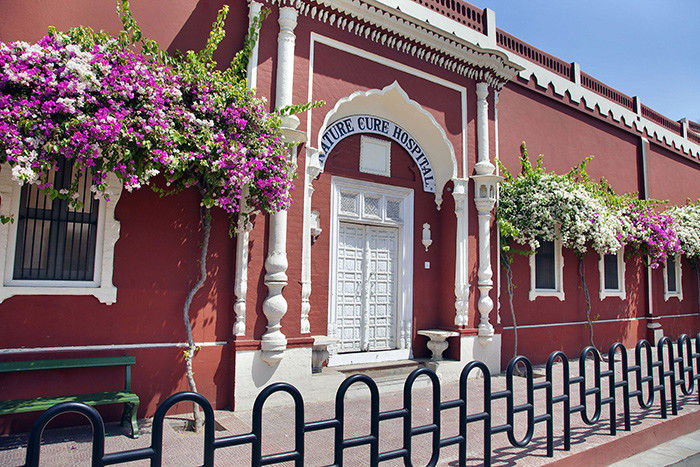 Nature Cure Hospital, Dera