Beas has world's largest rooftop solar plant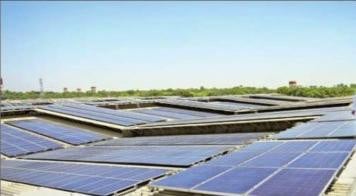 (The Times of India, May 18 2016) – 11.5-MW Plant Is Spread Over 42 Acres. Touted to be the largest of its kind in the world, an 11.5-MW rooftop solar power plant was inaugurated by Punjab chief minister Parkash Singh Badal at Dera Baba Jaimal Singh (the Radha Soami sect headquarters at Beas), 45km from Amritsar, on Tuesday.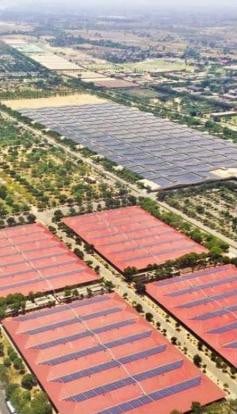 The CM dedicated the state-of-the-art project installed by Radha Soami Satsang Beas Educational and Environmental Society (RSSBEES), in technical collaboration with Punjab Energy Development Agency (PEDA), to the nation. He said it would go a long way to motivate other states to replicate such projects for producing clean and green energy. Highlighting the significance of the Rs 139-crore project, Punjab renewable energy minister Bikram Singh Majithia said the plant has enormous environmental benefits and would be instrumental in bringing down 4 lakh tonnes of carbon dioxide (CO2) in the next 25 years, which was equivalent to planting nearly 2 lakh trees.
He said the project would generate energy sufficient to power approximately 8,000 homes. "Besides," he said, "this project would also go a long project would also go a long way in creating awareness about eco-friendly solar power among the general public, as one crore (10 million) devotees visit the Dera Baba Jaimal Singh annually."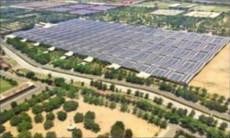 PEDA director Balour Singh informed that 11.5 MW solar plant is installed on nearly 42 acres of rooftop of open shed meant for 'sangat' (followers). He informed that it took nearly six months to make the world record. "There are other several 5MW rooftop plants in various countries, including USA and China but this is the largest one that produces 11.5MW electricity," he said.
He informed that there were other solar plants in the Dera complex producing 8 MW electricity on seven roofs, thus making a total installed capacity of 19.5MW spread over 82 acres.