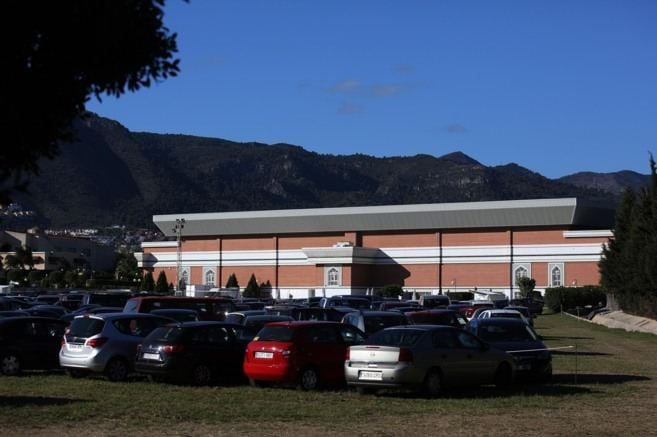 Cars parked around the venue in Alhaurín de la Torre.
An Indian Guru brings together thousands of people across Europe
(Translation from El Mundo, Spain, April 28, 2014) – Hikers with light backpacks, cyclists on empty roads come during the early morning following temporary signs of RSSB throughout Churriana. Following these signs, one would know why during that weekend the streets in Torremolinos were full of Indians, or even why there was an information desk at the airport: the reason being, just like it has been taking place during the last weekend of April every other year, the opportunity to meet Baba Gurinder Singh Ji Dhillon, the Guru who is the head of Radha Soami Satsang Beas (hence the initials for RSSB): the man who has been teaching "Sant Mat", the path of the Saints for two decades.
Many locals are unaware that at the crossroad of Zapata, in Alhaurín de la Torre, this spiritual society with its headquarters based in Punjab, India, has a meditation hall with a capacity of accommodating the 4,000 people that have come during these three days to listen to their spiritual master. Mobile phones, the taking of photos and note taking were strictly not allowed. The cars were guided by volunteers to be parked in perfect rows in vast fields, which are taken care of by the followers of this philosophy throughout the full year. This philosophy tries to spread the message of meditation being the way to reach a nameless God; neither Budha nor Allah, neither Krishna nor Jesus Christ. In fact, as explained by one of the Spanish volunteers yesterday, he reconciles his Catholic faith with the path taught by Gurinder Singh on meditation and individual commitment.
At the entrance of the venue, this Sunday, there was a car of the Guardia Civil, and also an ambulance as a matter of requirement in events of this magnitude. There was no politician, as there was not much vote to catch or photos to be taken as it usually occurs in any public procession. The organization was perfect; rows of seats with simultaneous translation were available. Among the volunteers, were familiar faces of the important Indian community of Costa del Sol, who often take their children to British schools located along the coast. At nine o´clock the hall was almost full. Half an hour later, the spiritual singing stopped and the guru accompanied by a lady went up to a serene stage, with blue curtains at the background. No one applauded nor stood up. On both sides of the stage there were two big screens where one could see a close-up of Gurinder Singh´s serious face while the lady was explaining what the path of meditation was about. To attend yesterday's meeting, disciples of Gurinder Singh from different European countries and Latin America were invited, but not from UK "as if those from London come, they solely would entirely fill the hall", as explained by a Spanish follower.
The Indian public in the hall gave a significant idea of what one could at present find in India: very modern youngsters, with elderly women who still wear kurta type dresses. Young girls with strapped, beaded sandals, with westerners who have adopted the Indian aesthetic look, wearing scarves over the shoulders and typical Indian printed tops. In the car park a mixture of modest cars and very exclusive models were seen, a sign of a buoyant community which for decades has been doing business in the Costa del Sol. In fact, prior to becoming a guru, Gurinder Singh himself was a salesman in Spain. The replies by Singh always led to the necessity of staying focused in life. He spoke in English about "focus", which interestingly, is also the title of a book by Daniel Goleman, best-seller author of Emotional Intelligence. In Sant Mat, as perceived from the explanations given by the guru, great importance is given to personal commitment and to the two hours and half of daily meditation. The followers are committed to lead a righteous moral life, be vegetarian and dedicate two hours and half to meditation daily. Precisely, yesterday this requirement was the subject-matter of several questions from the audience. Amongst those who asked, all in English, were ladies who cried and asked him for his blessings. Other Indian ladies explained that "only a small fraction of his followers idolized him".
Every Sunday there is a discourse on Sant Mat and after that a group of around 40 volunteers stay on to take care and maintain the premises, ensuring the trees are perfectly pruned and fields are well maintained. Next week Gurinder Singh will be back at Beas, in Punjab, a small town where occasionally it is able to accommodate 250,000 visitors who come to listen to him. Yesterday, in an industrial area of the Valle de Guadalhorce, 4,000 people met up and hence, explained the reason why for days, in Torremolinos, the streets were full of Indians from all over Europe.