COVID-19 Special Report
As a Special Consultant to the Economic and Social Council of the United Nations with respect to several areas of expertise including disaster relief, Radha Soami Satsang Beas has made a formal report to the United Nations outlining the activity undertaken by RSSB during the past few months to provide disaster relief in India to those affected by the COVID-19 virus pandemic. Below is the copy of the report.
The Privilege of Seva is a short documentary video showing how RSSB responded to the COVID19 pandemic throughout India, assisting a flood of struggling humanity in a time of need.
Story from the UN Civil Society COVID-19 Response: Story about Radha Soami Satsang Beas Covid-19 response. RSSB has consultative status with the UN ECOSOC.
RSSB Covid Response: This chart illustrates how RSSB in India gave support to the growing numbers of people affected by the Coronavirus.
---
Report to the United Nations
RSSB COVID-19 Pandemic Relief Effort
Radha Soami Satsang Beas ("RSSB") is pleased to provide the following information to the United Nations. As a Special Consultant to the Economic and Social Council of the UN, it is one of the stated objectives of RSSB to provide relief to the needy in times of natural disaster. The COVID-19 pandemic has obviously given rise to the most extreme health and economic crisis in India and globally. RSSB realized at the outset that this was an opportunity to put its principles into practice.

Commencing on 26th March, 2020, RSSB began a program for the provision of daily food to those who were isolated in their homes. It was decided to prepare food packets at RSSB centres which local authorities could collect and distribute to those most in need. A typical parcel may contain a serve of vegetables, a serve of dal, a serve of spiced rice, some flat breads (roti) and some pickle. Each parcel is intended to provide a substantial and nutritious meal. The food is prepared every day from fresh ingredients. Teams of volunteers stay at a centre for a period of at least 14 days to prepare the food packets. The packets are delivered to the entry gate at each centre and the local authorities then take the food out into the communities for delivery. All this is done free of charge. The huge quantity of food required to keep up this production is all donated by followers of RSSB. The volunteers have been working under the difficult conditions of maintaining social distancing and intensive hygiene practices including the use of hand sanitizers, face masks and gloves. The number of food packets for distribution peaked at 1,176,000 packets per day around 4th May. As at 17th May, there were still almost 1 million packets being distributed per day.

On 30th March, the Prime Minister of India, Mr Modi, invited twelve religious heads to attend a video conference regarding the COVID-19 pandemic in India. Baba Gurinder Singh, as Patron of RSSB, attended the conference. He informed the meeting that RSSB was making all of its centres and facilities available to local government authorities to use as accommodation for migrant workers and as quarantine centres for patients.

"We are in touch with all the officials of the District Administration here; whether they are dealing with food or managing isolation wards or concerned with providing staying facilities for people. We have made arrangements for all kinds of facilities for everyone. In future also, whatever we have belongs to the sangat and for the sangat our doors shall always remain open," Baba Ji said. He offered all RSSB premises to be available to the central government 24/7 for food, isolation wards and quarantine centres.

To help the Punjab state government in its concerted efforts to contain COVID-19, Baba Ji also offered to the Chief Minister of the Punjab, Captain Amarinder Singh, the use of all the RSSB Satsang centres located in the state.

In the centre at Kalmeshwar Road, Nagpur, RSSB provided a 5,000 bed quarantine facility. On 19th May, RSSB volunteered to provide free meals to the 9 other quarantine centres established by the Nagpur Municipal Corporation (NMC). The NMC had been spending around Rs200,000 a day to provide breakfast, lunch and dinner at these centres. RSSB will prepare all the food for free and deliver it to NMC daily.

At over 250 RSSB centres spread across India, every guest is provided with bedding, towels and toiletries, accommodated comfortably and provided three meals a day plus snacks, tea and so forth. People are welcomed purely on the basis of need without any discrimination on the basis of caste, race or religion. Of course, all migrant workers are able to continue with their daily religious practices as required by their faith, whatever that might be. Since many are locked down in these centres for weeks, RSSB volunteers organize daily yoga and the screening of videos addressing social and health issues such as the empowerment of women, organ donation, aids awareness, drug addiction, the harm caused by smoking, etc.. Facilities are available for children to play and some centres organized clowns, music and other entertainment for the children.

In the district around the headquarters at Beas, RSSB distributed face masks and hand sanitizer to local villages and also provided these items at its centres across India.

The number of people accommodated peaked at 23,788 around 16th May and was still over 20,000 on 17th May.

The following graph illustrates the sheer scale of the operation to provide food and accommodation: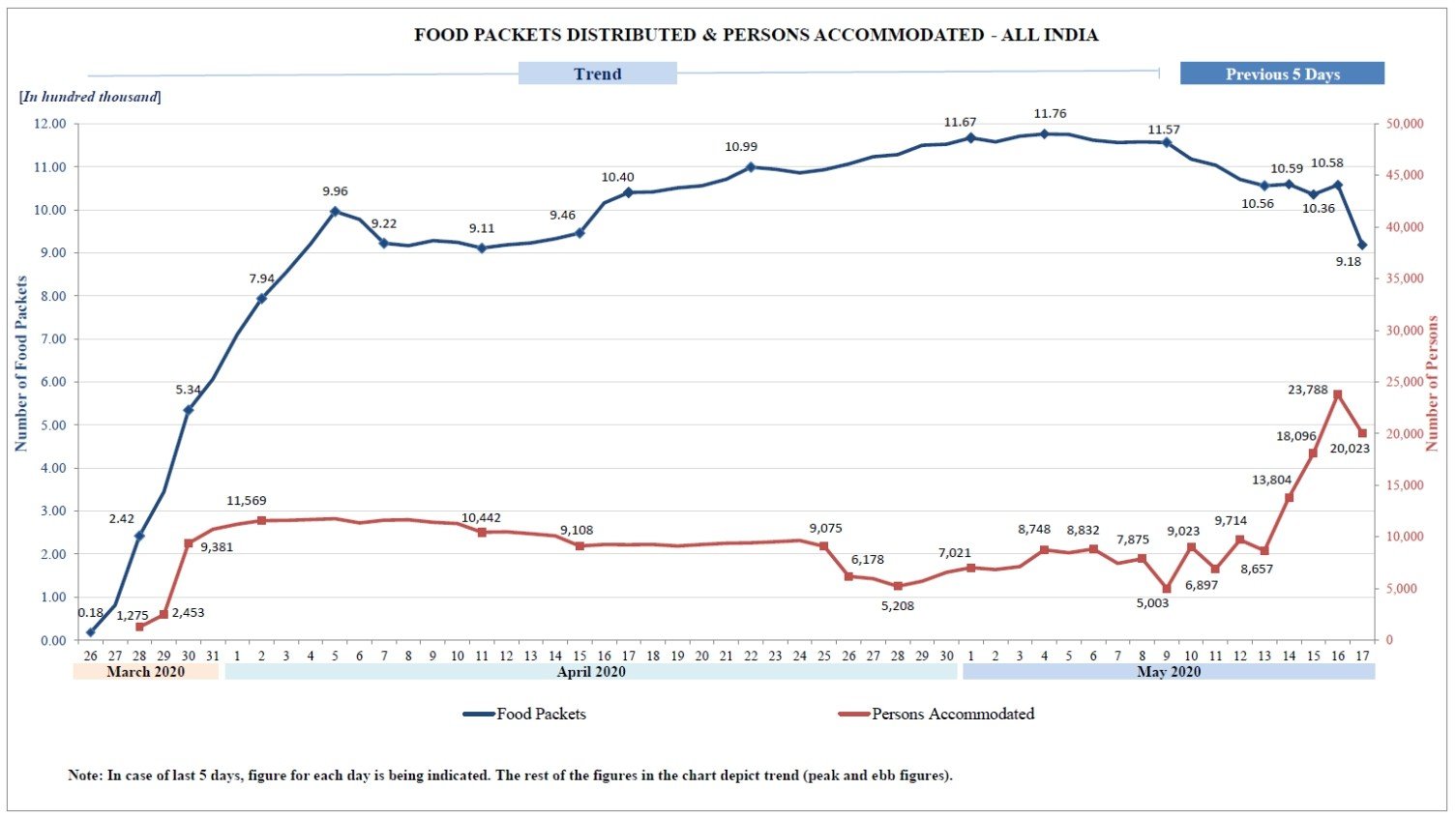 Of course, in addition to the food packets and the accommodation for migrant workers and people who have been placed under quarantine, all the volunteers also have to be housed and fed.
As a direct way of supporting government efforts, RSSB donated Rupees 8 crore (US$1,050,000), being 80 million, divided as to 20 million (US$263,000) to The Prime Minister's Relief Fund, and 10 million (US$131,500) to each of the governments of Punjab, Haryana, Delhi, Himachal Pradesh, Rajasthan and Jammu & Kashmir.
The three charitable hospitals operated by Maharaj Jagat Singh Medical Relief Society, an affiliated society of RSSB, being hospitals at Beas, Bhota and Sikanderpur, continued to provide free medical services to all comers during the virus lockdown. They also provided isolation facilities for suspected or positive cases of the virus infection. The Bhota hospital in Himachal Pradesh and part of the Beas hospital in Punjab were made available to the respective state governments for the care of COVID-19 patients.
In Chandigarh, the government relied upon the availability of RSSB sheds to provide urgent storage for mustard and wheat crops being harvested during the lockdown.
In many parts of India, migrant workers wanted to get home. In spite of government requests that they be paid and remain in the places where they had been working, thousands took to the roads to walk home because there was no road or rail transport. These desperate people were accommodated at RSSB centres wherever they reached. For those who kept going, many thousands were provided with food packets to help them on their way.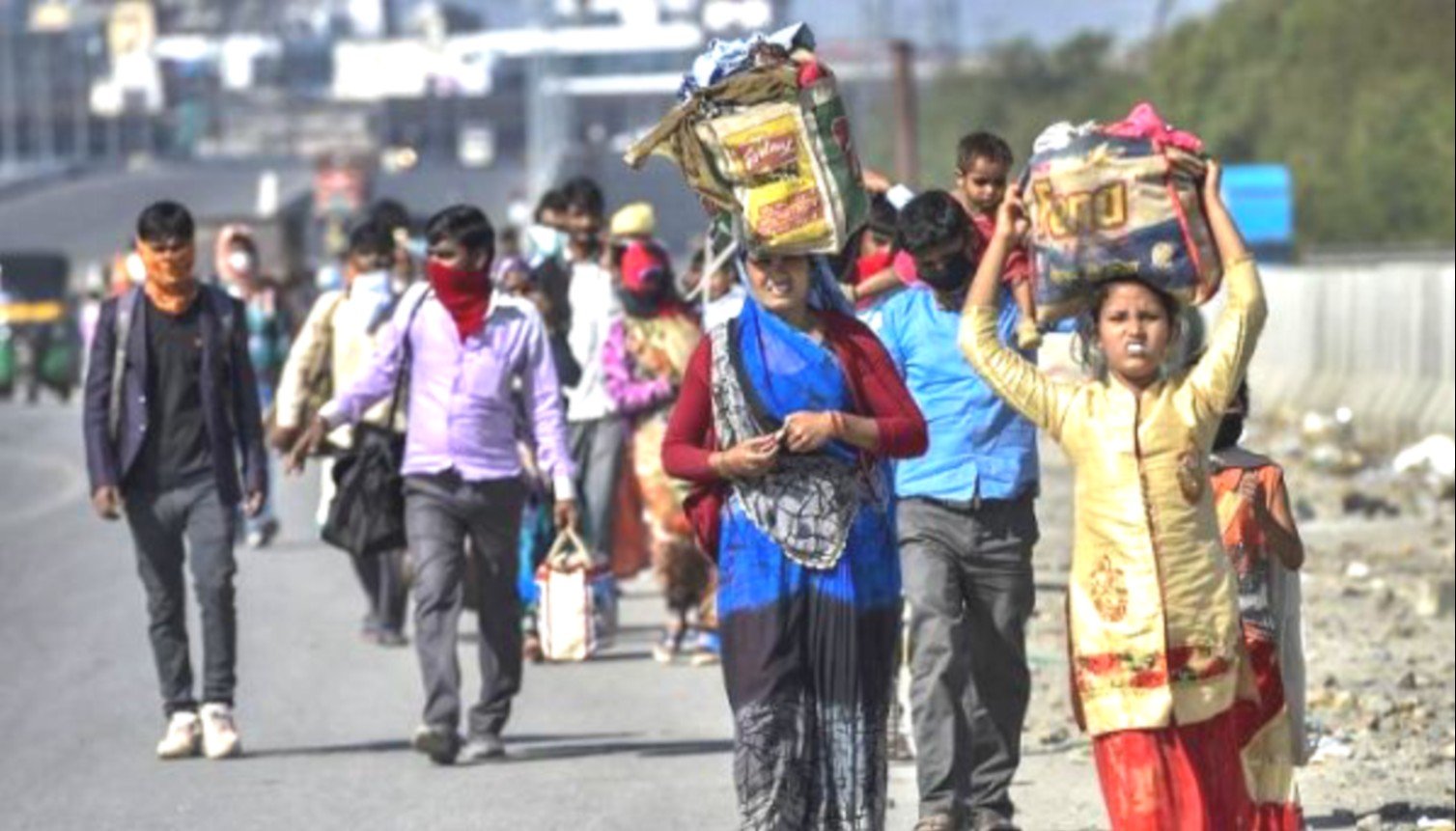 Examples of the various projects undertaken by RSSB
In Nagpur, RSSB worked with the Nagpur Municipal Corporation (NMC) to create one of the largest quarantine centres in India. The facility was completed in 8 days.

(Left) All Ready: A view of the 5,000 beds COVID Care Centre set up at Radha Soami Satsang Beas, Kalmeshwar Road, Nagpur. (Right) At ground zero: Municipal Commissioner Tukaram Mundhe on Monday inspecting facilities created at Radha Saomi Satsang Beas.
An article published on May 12, 2020 in "The Hitavada – The People's Paper" commented as follows:
"The advantage with Radha Saomi Satsang Beas facility is that it is surrounded by thick green patch and the location outside the city ensures there is no threat to locals in anyway. The Trustees of Radha Saomi Satsang Beas apart from allowing use of their premises in battle against COVID-19 has also agreed to bear the cost of lodging and boarding.
Matting, barricading, compartments, siding, dome all was provided by the Trust. They have also told NMC officials that they would also provide drinking water facility apart from arranging food for the patients. NMC has put in place the required testing facility at Satsang premises wherein apart from checking temperatures, examination of blood samples would be conducted there only. In case the swab of any person in quarantine tests positive and the symptoms are mild then the treatment would be continued at the same premises but at separate room. The civic body would also bear the cost of lodging and boarding of medical staff. Arrangements for housing of medical, para medic, police personnel, employees engaged in sanitation work has also been made at the premises itself.
The 5000-bed COVID-19 Care Centre, which is located 15 km from the Nagpur city, is going to be used for quarantine facility and screening of suspected COVID-19 patients.
Soni, Public Relations Officer of NMC, said that this is the biggest quarantine centre in Maharashtra and one of the biggest in India. The Radha Soami Satsang Beas Centres are spacious and well equipped with hygienic kitchens and clean washrooms. Radha Soami Satsang Beas has provided mattresses, potable water and food for the patients."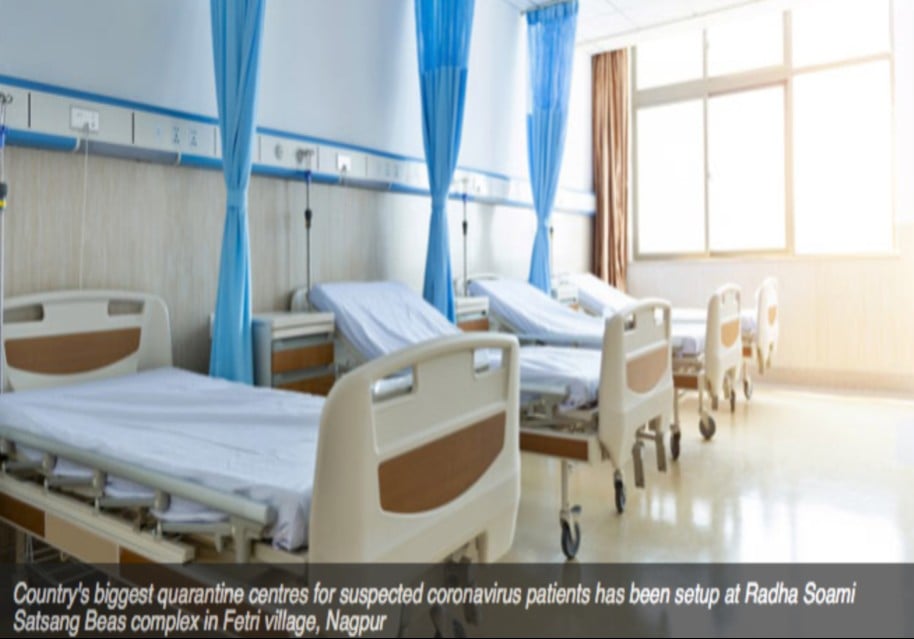 The press reported that:
"The Panchkula unit of Radha Soami Satsang Beas is organising food and shelter for stranded people. Adhering to all norms of social distancing and sanitization, society is helping thousands amid COVID-19 outbreak. It is also distributing food packets to 13,000 on an everyday basis. The services are not restricted to one centre or one city. But Radha Soami Satsang Beas has its relief and food facilities running across the country. Its role has been instrumental in comforting and feeding the needy amid a global health crisis. The society is at the forefront along with other organisations in the nation's fight against COVID-19."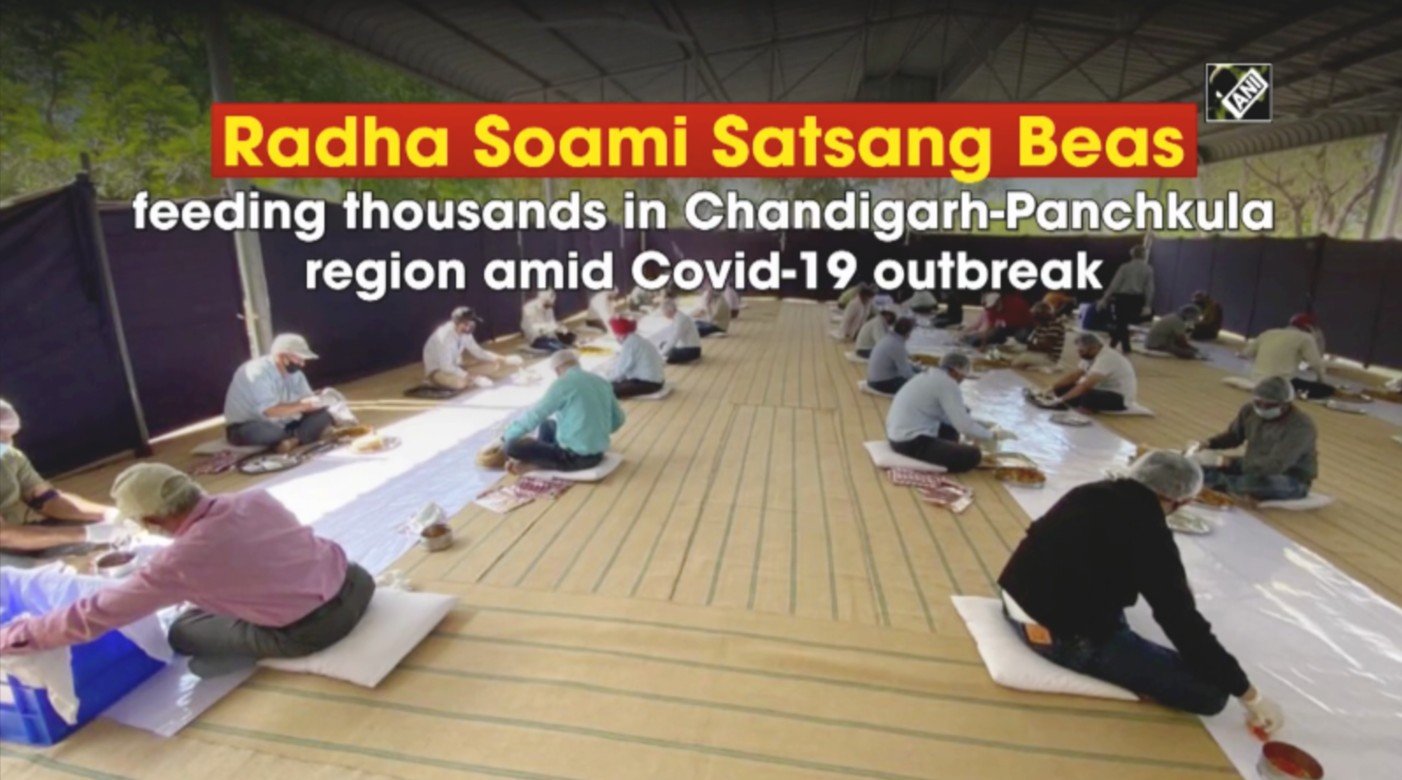 PTC news reported that:
"Punjab CM Captain Amarinder Singh on Tuesday 28th April announced a compulsory 21-day state quarantine for all those returning to the state from other places to check the further spread of coronavirus. He also announced that the Radha Soami Satsang Deras will be used as a quarantine facility for the Sikh pilgrims and students returning from the other states. All pilgrims returning from Nanded, and students and labourers coming from Rajasthan, will be stopped at the border and sent to Government quarantine centres to ensure that they do not mix with other people for 21 days, said the Chief Minister. Adding, he said that Radha Soami Satsang Deras would also be used to quarantine these people, whose return was being facilitated by his government since the past 3 days."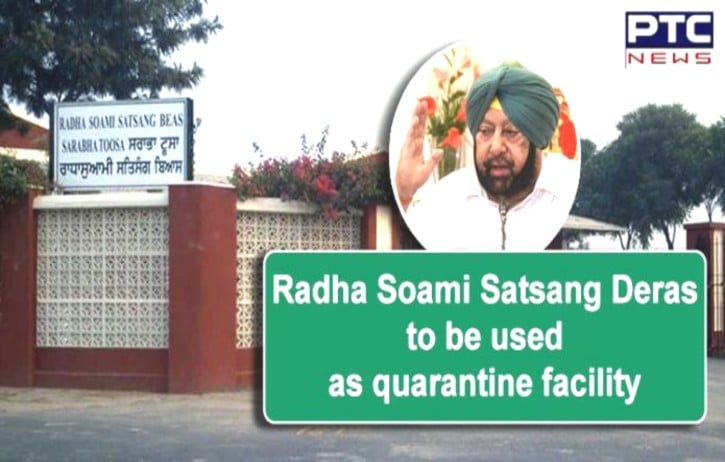 The Hindustan Times reported that: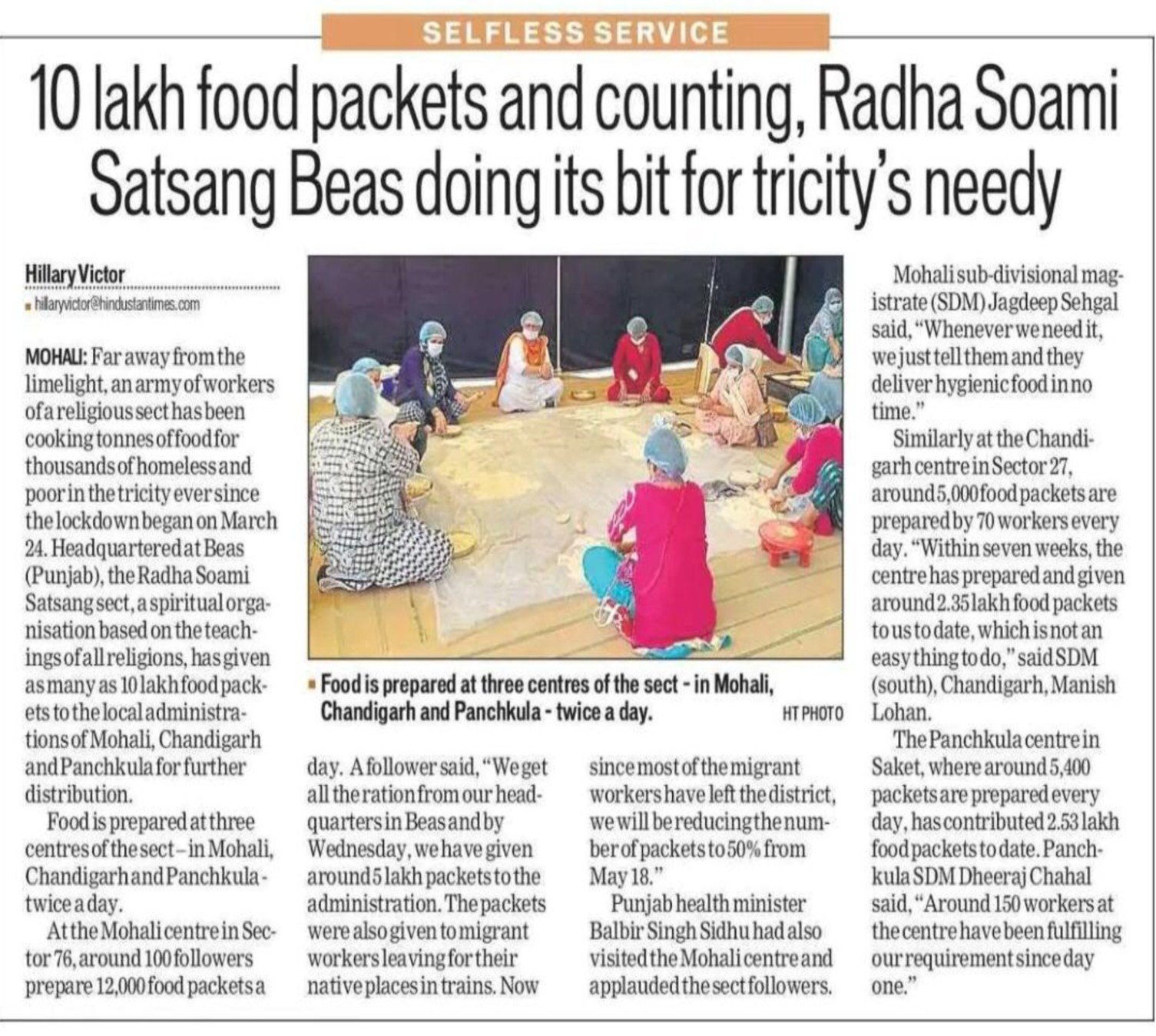 More readable text version.
The Tribune News Service reported that: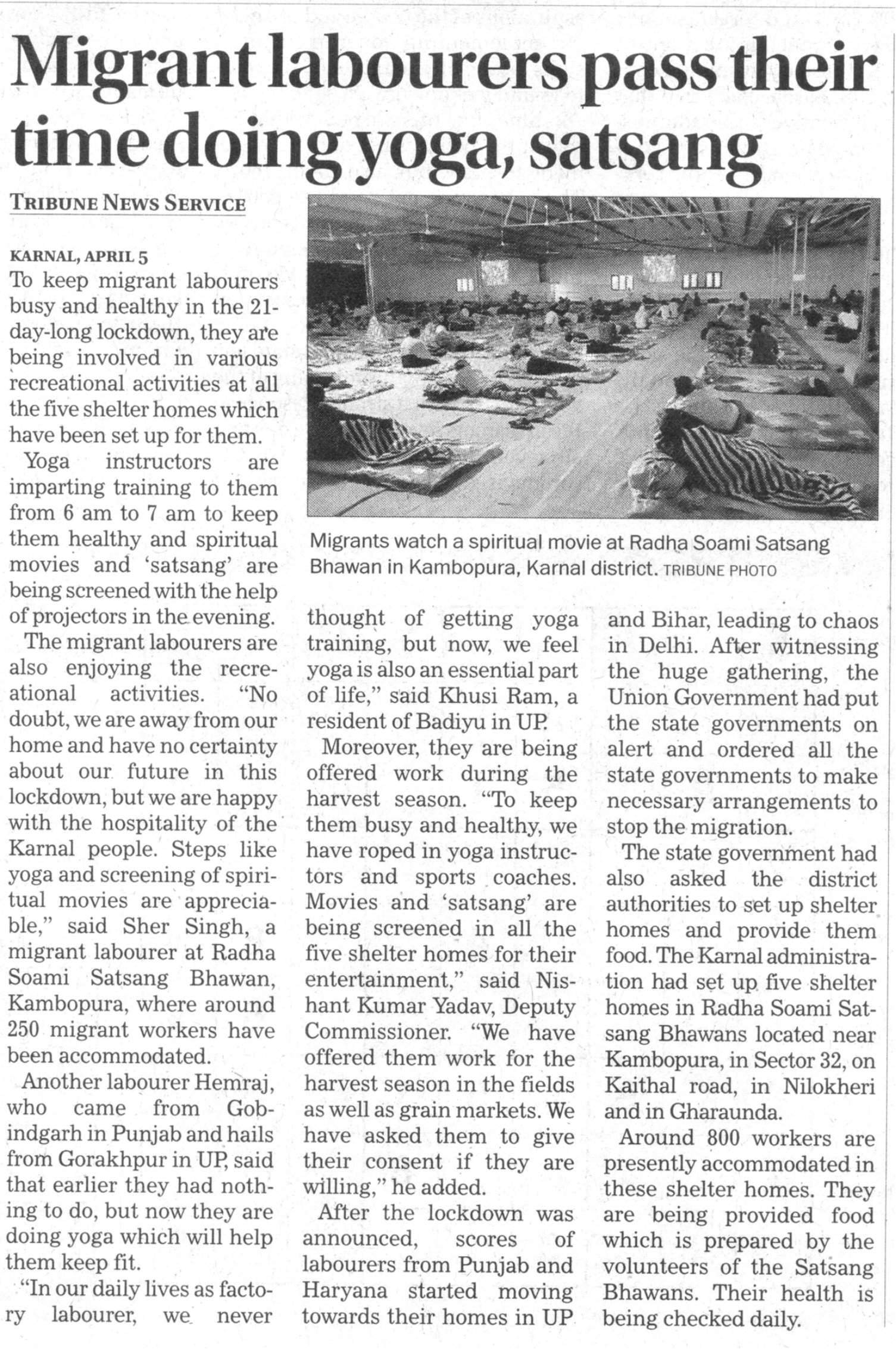 More readable text version.